The Film Club Paints With Light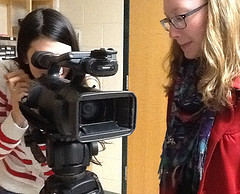 By Sydney Lauro
The film club at Hopkinton High School is a new club where students with a love of film can learn, create, and act in films. The club meets on Wednesdays in the film and television room from 2:15-3:30 after school.
There is a broad range of clubs at Hopkinton High school, but until now there was no club for students who "paint with light" as Mr. Kammer, club advisor, describes the art of filming.
The creators of film club, juniors Ali Weinstein and Adrianna Lankford, have many reasons for starting this club. Weinstein says, "There was a lack of organized film production in the school", which urged her to create the club.
Both club founders wanted the club to be like an extended film class without the stress and strains of an actual class. They're also hoping to raise awareness for those who don't take Mr. Kammer's film and TV class.
Awareness of what film is and improving peoples skills are generally the main goals of the club. "We're hoping to broaden people's sense of what film is," says Adrianna.
To do so, club members will watch different genres of films and discuss them. They will then go off and make their own films for each genre they study.
Ali explains, "The club will be studying certain genre's of films in five to six week sections."
Then, with the guidance of Mr. Kammer, the club members will act, direct, film, and edit films of their own.
Kammer and Weinstein want there to be a lot of versatility and choice involved in the club. Members get to do what interests them and they don't have to participate in all the steps of film production if they don't want to.
In the first club meeting, the attendee's were given a lot of say in what they were going to study and create. The genres that were the group's favorites included horror, mockumentaries, action, western, drama, thriller, and silent films.
The club leaders and Mr. Kammer threw out the idea of a film competition that would occur near the end of the year for extra thrills and fun.
"Right now it is more kind of a brain-crack," Adrianna explained, "so it's an idea that just keeps growing and growing and growing."
Ali reiterates that they aren't really sure what is going to happen with the competition, but they intend to solidify their plans soon.
Every club attendee has a wide range of abilities. Some are practiced filmmakers, while others are interested in learning the basics.
"I like film," says Justin McGrath. "I have a lot of practice editing".
As a new club, it has little publicity at this point. Ali Weinstein suggests, "we could have viewing nights…for parents and other students to go to", as a way to rally interest.
The club's films will be shown at the school as a fundraiser and an advertisement. There is also a Facebook group to make communication easier within the club, which is a main tool for organizing club plans, and these club festivities.
Mr. Kammer and the junior club leaders reiterate that all painters of light are welcome.