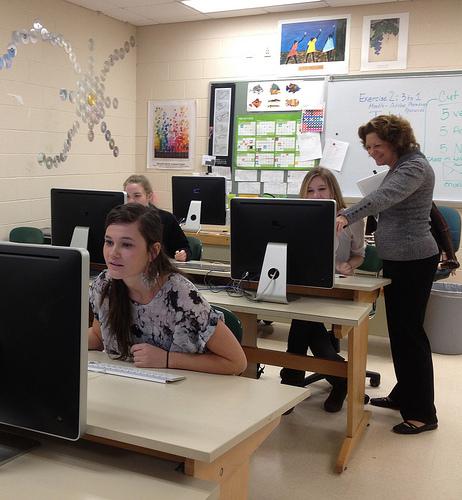 (Editor's Note: This article is part of a weekly series of HHS club profiles.)
By Emily Coburn
Due to an unusual lack of interest this year, HHS no longer has a Yearbook Club. Â Although in the past the yearbook has been put together by both a Yearbook class of seniors and a club open to all grades, this year it has been up to the small Yearbook class to put together the entire yearbook.
"It is simply due to lack of interest [that there is no club].  We had the first meeting and nobody came," stated yearbook director and HHS English teacher Ms. Mary Ann Brayer.
The Yearbook Club, like most HHS clubs, was represented at the club fair at the beginning of the school year, so students did have an opportunity to learn about it. Â Many students even signed up to be members at the fair, but still no one showed up to the meetings.
In regards to why students may not have been able to commit to the club, yearbook class member Haley Batchelder suggested, "People have busy lives and it's hard to fit another thing in."
In the past, the Yearbook Club has been a good way to get the underclassmen's voices heard in the yearbook.   "I think that underclassmen don't want to work on the yearbook because it's not theirs. They won't be in it, or know the people in it so it's hard to get involved when it doesn't interest you as much," Batchelder said.
This year, the Yearbook Class is made up of four seniors, Haley Batchelder, Maddie Bertschmann, Samantha Mastrangelo, and Lily Whitehouse, and is taught by Ms. Brayer. Yearbook is taken as an elective and is a full year course.
Although the members of the Yearbook class are very disappointed with the lack of interest for the club and lack of people to help them, they are all still excited to be involved with the yearbook, and described being part of the yearbook as "a rewarding experience."
Those are interested in receiving a yearbook can now purchase them online at www.yearbookordercenter.com using the HHS code, 8904.