Team 11:11 Works Toward Raising $6,500 for Make-A-Wish Foundation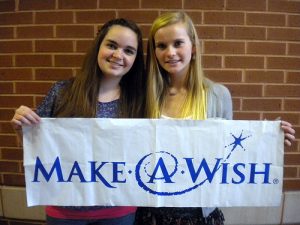 By Meghan Murdock
Formed last year, HHS club Team 11:11, a branch of the Massachusetts and Rhode Island Make-A-Wish Foundation, is currently working toward raising $6,500 to send a child with a life-threatening disease on a Make-A-Wish vacation by the time the class of 2012 graduates.
The club has already raised slightly over $1,000 through their Fairy Fundraiser, which asked students to donate money to see their favorite teachers dress up as fairies, selling bracelets, and a YMCA pool carnival.
"The pool carnival was the most successful because we raffled off a 2012 [YMCA] family swim club membership," said HHS senior and founder Jamie Horrigan.
Horrigan chose to start the club to do her part in helping children who suffer from cancer and other life-threatening diseases.
"I was reading some statistics about kids with cancer and how so many of them have to endure countless painful treatments that are not even guaranteed to work," said Horrigan about her inspiration to start Team 11:11.
Horrigan's further motivation was found in a dream, where she saw a group of students presenting something to a sick child.  Immediately, she thought of the Make-A-Wish Foundation.
"That day, I called a representative from the Make-A-Wish Foundation of Massachusetts & Rhode Island for support and the club was approved the next week by the school administration, Mr. Frey, and the Make-A-Wish Foundation," said Horrigan.
Currently, the club is generating other ideas about how to raise money for their cause.  They are in the process of designing t-shirts where local businesses who choose to donate money to Team 11:11 will have their names printed.
Team 11:11 is also working on round two of their fairy fundraiser, just with a different theme this time.
"We will be holding a vote prior to collecting money to raise awareness. This vote will decide which theme is actually done," explained senior member Carolyn O'Leary.
O'Leary further explained that for the following two weeks, the team will be collecting money at lunch to benefit their cause.  The group of teachers with the most money collected by the end will dress up as the winning theme.
"There are different groups of teachers that have volunteered to dress up in support of the club," said O'Leary when asked which teachers students would be able to see in costume.
As for other fundraisers in the future, the club is looking into possibly hosting a talent show or a dodgeball tournament.
Horrigan encourages students to join the club in order to help grant the wish of a sick child.  Recent wishes from the Make-A-Wish Foundation's website include children who wish to have their own horse, to go to the Grammy Awards, and to be a zookeeper.
Team 11:11 meets on Tuesdays at 2 PM in Mr. Frey's room.  The group also has a Facebook page titled Team 11:11-Make-A-Wish.