Mock Trial Prepares for Courtroom Debut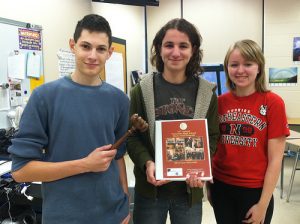 By Kayla Sullivan
On Wednesdays after school the high school's Mock Trial Club meets to prepare for their first competition in January, where they will attempt to put a simulated court case to rest. Cases are provided by the Massachusetts Bar Association and tried in Milford District Court with an experienced judge or attorney presiding.
The club is led by seniors Meghan Murdock, Max Vumbaca, and Dan Genkin, advised by new HHS English teacher Ms. Shari Meyer.
When asked what prompted her to take on the club her first year here, Ms. Meyer stated, "I'm interested in the use of rhetoric to make good arguments as well as the opportunity to do role-play in a really fun way."
In addition to Ms. Meyer's guidance, the club also has Mr. Michael Schwartz, an experienced former attorney who helps the club understand the law aspects of a trial.
Mr. Schwartz practiced in small firms for several years handling general matters such as real estate closings, criminal defense, divorces, bankruptcy, and civil litigation. Â In 2004, he received a "Pro-Bono Attorney of the Year" award from Metrowest Legal services for handling a great deal of bankruptcy cases at no charge for indigent and underprivileged individuals.
Mr. Schwartz first got involved in the club in 2003 when his son was a member. Â "The team was and is attracting motivated and talented students who were and are winning trials against other high schools. I was encouraged by all the enthusiasm for the program and I wanted to do what I could to keep that momentum going," he stated.
Mr. Schwartz expressed that the club is "an energized environment that is a privilege to be around," and that he enjoys "watching the trial slowly coming together and then sitting nervously in the courtroom while all [of their work] goes on display."
Due to the realness of the simulation, "[The club] is pretty faithful to what court is really like," stated Vumbaca, "So there is that aspect, for people who want to be in law, and there is also a lot of acting, so people who like to act succeed as well."
The club prepares a team of nine for both sides of the case, and they will switch off which side they play at the competition. On each team there are three witnesses, and each witness has their own direct examiner and cross examiner. Each club member is in charge of preparing for one role.
"It's a great club to really grow in," explained Ms. Meyer, "Everyone has different talents. The roles involve different skills, so there is a place for everyone." The witnesses play more of an acting role, while the direct and cross examiners' roles involve preparing and asking the questions.
The most recent case the club has been given involves bullying and negligence. It is against a teacher who was witnessing bullying but did not stop it, and as a result the bullied child ended up in a mental institution.
Although the case is fictitious, Ms. Meyer says, "The case is really timely and exciting, and very relevant to all of our daily lives."
The court experience the club offers is "definitely an opportunity that you don't get to have anywhere else," stated Vumbaca. Â The club is always looking for new members to help defend its latest case.