New Full-Time Technology Integration Specialist Sam Dowd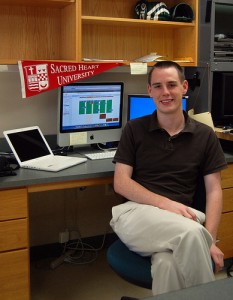 By John Oldach
Over the summer, the Hopkinton Public School system realized that they needed someone who could help to smoothly integrate technology into the high school.  This hire came as Sam Dowd, who graduated from Holliston High School in 2007 and attended Sacred Heart University, where he worked for the IT department for four years and earned a Bachelors degree of Arts and Communications.
"Sacred Heart was not only my education, it was the whole experience.  You know, I figured if I'm going to pay forty thousand dollars for an education I might as well make it worthwhile…My education was that in the classroom and out of the classroom experience and it really paid off," he stated.
His education and experience show he is well qualified for the job; however, his attitude has shown this as well.
Sterling Worrell, a Journalism and Visual Arts teacher at the high school, and also Sam's mentor for the next year, praised Sam for how he is doing in the position.
"One of his best assets, actually, is his enthusiasm…He's young, he's full of energy and he's really excited about this job like he really takes this very seriously and he seems to be working every angle that he can to be successful at it."