HHS Gets to Know International Students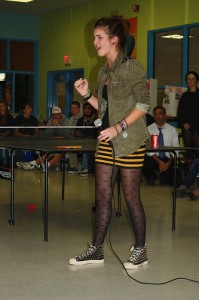 By Meghan Murdock
Students, parents and teachers gathered in the Middle School cafeteria on Thursday, October 27 to spend the night with Hopkinton High's international students, participating in different cultural activities, sampling international cuisine, and learning about the international program.
This year, there are fourteen international students at HHS representing three different countries: China, Germany, and Italy.
At the event, attendees were able to color their own Peking opera masks, play ping pong, make their own calligraphy, and learn how to use chopsticks.
Most importantly, attendees were able to chat with the international students, learn about their culture and homeland, and hear about their transition to life in Hopkinton, Massachusetts.
One of the Chinese students, Chen Ye, said that she is very pleased with her experience here.  She enjoys the classes she is taking at HHS, which include English for the Modern World, AP Calculus, and AP Physics.
Principal Alyson Geary said that she feels the transition for the international students has gone well so far.
"I think we learned a lot last year because it was our first year," said Geary, "This year, we registered them before the students arrived.  It's easier for the students to already have their class schedules."
Geary explained that last year some students were not able to get into classes they wished to take due to unavailability; however, that was not a problem this year.
Later in the evening, all fourteen students and the new visiting Chinese teacher introduced themselves to the audience, talking about where they come from and their interests.  Students ranged from an Italian student interested in clothes to a Chinese student interested in computers.
The students also gave some heartwarming compliments to their host families here in Hopkinton.
"I'm just thrilled to listen to their descriptions of how happy they are," said Ann Northup, the International Education Coordinator, who finds homes for the international students.
"I check in with them and their families once a month to make sure everything is going smoothly," said Northup.
Having a number of families willing to take in international students is a key component of the program.
"I would like to thank all of the families that have taken students in.  Our program wouldn't work without them," said Assistant Principal Ashoke Ghosh.
Besides forming friendships with students at HHS, the international students have formed an easy camaraderie with each other.
"We are from all different parts of China, but we came here and became friends," said one of the Chinese students.
The evening closed with musical performances from Chinese and Italian students, a demonstration of tai chi, and an Italian techno dance tutorial.