Welcome to HHS, Mr. Brody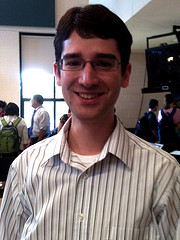 By Rebecca Plunkett and Rhea Shinde
Isaac Brody, the talented new choral and strings instructor at Hopkinton High School, has sky-high goals for the 2011-2012 school year. The variety of expectations and standards he has for each of his classes is his top priority. Overall he would like to "get to know the students, teach the curriculum well, and provide great learning experiences with music that the kids like."
Mr. Brody hails from Texas, where he grew up with a very musical background. He began to play the violin at age 5, he sang in the chorus at his school, and he participated in the xylophone ensemble. Later on, he took theory classes at the New England Conservatory and played in an exclusive orchestra. He attended Newton South High School, where his favorite classes were chorus and strings, and, aside from music, he says "math would probably (have been) my favorite class."
In his spare time, Mr. Brody enjoys "playing computer games like 'World of Warcraft,'" acting and singing in musical theater, and cooking delicious desserts. He and his friends enjoyed games of Ultimate Frisbee in their high school years. Being a choral teacher, he has a very particular taste in music–he likes to listen to classical music and musical theater tunes.
Initially he decided to come to Hopkinton because of the "good reputation of the music program in particular." Before he took the job, he listened to concert recordings from the past years and was impressed with the HHS talent. He loves getting to know different students and their musical abilities. Steve Yavarrow, the band director, took part in selecting the new teacher this year. He says that Mr. Brody's " skill level seems to shine at the top," and he was optimistic that his knowledge, experience, and background will blend well here.
Mr. Brody holds both a Bachelor of Music in Composition with viola as his primary instrument and a Masters of Music degree from Westminister Choir College. He graduated from University of Michigan School of Music, Class of 2002.  His aptitude is evident in that he "double majored in Choral Conducting and Music Education," suggesting that only the best is in store for him and his career at the high school.
Mr. Brody's favorite part about instructing chorus is when a section of a really hard piece comes together. "It is a lot of fun in general," he says, and his students cherish class time as well. Maura Maginnis, a sophomore choral student, praised Mr. Brody's teaching style. "I really like the warm-ups he does," she says, "and he is different in a good way."
Everyone here at HHS is very excited to witness Mr. Brody's talent and see all that he has to offer. Judging by his time here so far, he has made a strong, positive impression with the students.