Stressed and Sleepless Students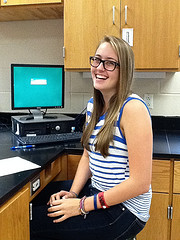 By Sydney Lauro
A late night is not uncommon for an HHS student who balances a schedule full of extra-curriculars activities and challenging classes. However, it is almost inevitable that a student who experiences these late  nights frequently will also experience the physical and emotional effects of sleep deprivation as well.
Sports, clubs, jobs, and homework all contribute to the busy agendas of most high schoolers. Junior Makenzie Corbett said she believes that sports, homework, and especially the Internet are the primary distractions from a good night sleep for the majority of her classmates. "I'd say about 80 percent of the kids in high school come to school exhausted…most of my friends get between six and seven hours. Some get less," she stated.
Teenagers, however, should be getting at least nine hours of sleep. Anything less can lead to sleep deprivation, which affects one's health, appetite, emotions, behavior, and athleticism.
"Decreased immunity is a direct effect [of sleep deprivation]," stated school nurse Sarah Patterson, "Which makes people more susceptible to illnesses…long term effects would be depression and mood disorders."
Guidance department head Lee Greco stated, "I think their emotions stretch thin, like a rubber band, so they may be quicker to snap and feel overwhelmed, crumble, and break down."
Many teachers find that their students are suffering from symptoms of hypersensitivity, lack of focus, and general signs of fatigue. Wellness teacher Stacey Place said she sees a lot of kids turning to coffee and energy drinks in order to make it through the day. "Even with my classes, Thai Chi or Stress Free Zone, all they want to do is lay down," said Mrs. Place.
Mrs. Place, however, believes the most important thing students should do is find support and manage their time by not taking on too much.
The school has attempted to help students with this issue by creating online classes for student convenience and wellness classes for stress relief, which, according to Mrs. Patterson, is "a step in the right direction."
If students could get more sleep, they "might see the world differently, and have a better outlook on life, in general. Not teenagers but everyone," stated Ms. Greco.