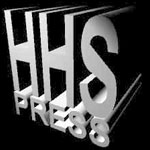 By Kara Wasilauski
This year HHS welcomed Isaac Brody, the new Chorus, Strings, Guitar, and Music theory teacher, to their teaching staff. Although it is his first year at HHS, he has already made an impact by taking on the task of music direction for the school musical and directing an after-school choir in addition to his four school courses.
Mr. Brody was previously the graduate assistant conductor for the freshmen choir at Westminster Choir College in Princeton, New Jersey, and before that he directed the women's chorus at Concord-Carlisle Regional High School.
When asked about all of the music endeavors he has taken on, Mr. Brody stated, "It takes a lot of time to plan for the different areas ,but since I'm not a full-time teacher I have extra planning time during the day." Â He also expressed that he would like to start another after-school chorus after the musical is done, so that students who were not able to fit chorus class into their schedule still have an opportunity to sing.
Sasha Yatchenko, a junior who has been in the chorus and after school chorus for the past three years, stated, "Although new to this school everyone can tell Mr.Brody is an experienced and seasoned teacher. During class he always has everyone's attention with exciting warm-ups and truly makes the students think about the music they're singing. Already I can feel myself improving with every class, and Mr.Brody sets a high bar we all strive to meet."
As the year progresses, Mr. Brody hopes to get to know his students' musical styles and choose the right songs accordingly. His goal is to get more HHS students involved in chorus, and judging by his actions so far, Mr. Brody is expected to make a positive change in the school's music program.