Danielle Petrucci Replaces Jill Leach as Wellness Coordinator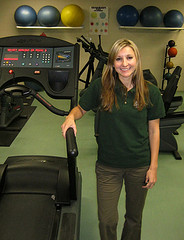 By Catie Maruska
Following the retirement of Jill Leach, Danielle Petrucci was hired this year by Hopkinton High to be the new wellness coordinator and take over the Unite student mentor program.
As wellness coordinator, it is her job to make sure that that all of the schools and staff are communicating and are all on the same page with specific frameworks in the metro west. When asked about potential changes to the wellness program, Ms. Petrucci stated, "My goal is to take it to that next step with ease and not too many bumps in the road."
One of Ms. Petrucci's biggest new jobs is taking over the Unite program in the school. Coming from the Hamilton-Whenham schools, Ms. Petrucci has had experience with programs similar to Unite. The high school's program provides support and mentors to the incoming freshman.  Her first year, however, is strictly for observation and learning about this program. "It is hard to take something over that you don't have a vision for," she said.
Her goal for Unite is to keep up its stellar reputation in the school by keeping traditions, making sure the kids don't "suffer", and taking feedback from all of the students on how to improve the program.
​
Senior Unite mentor Kaelynn Maloney stated, "I really think she has connected well with the students and I look forward to continuing to work with her."
Ms. Petrucci understands that Ms. Leach's shoes are big to fill, but she has goals that she hopes to complete in her first year at HHS. Her biggest goal is to learn about the community and to improve the communication between all of Hopkinton's schools; she wants everyone to be on the same track, making communication and the sharing ideas as easy as possible. Other than that, her other biggest challenge is learning everyone's names.