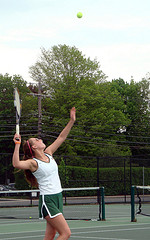 By Allison Langh
On Tuesday, May 24th, Hopkinton Girls Varsity tennis shut out Whitinsville Christian 4-1, improving their overall record to 14-2, and 12-2 in the Tri-Valley League.
Junior Emma McWilliams dominated at first singles, winning 6-1, 6-0 against Whitinsville Christian's Sarah Perregaux.  Fellow junior and second singles player, Maddie Schneider, led the team with the first win of the match (6-0, 6-0), without giving up one game to opponent Emily Barrett.
Junior Kate Hervol debuted in her first varsity tennis match, losing a long and very competitive match at third singles to Whitinsville's Molly Stark (7-6, 6-0).  The first set went to a tie breaker at 6-6 with Stark pulling through to win 10-8.  "By the time the second set came around, both players were completely exhausted," commented senior Jennifer Langh.
First doubles, senior tri-captain Jessie Hibel and junior Katy Cook, beat their opponents in two sets 6-0, 6-0.  Juniors Marissa Mahoney and Alex Austin finished up the match, winning their match in a tie breaker after splitting the first two sets with Whitinsville (6-3, 3-6). They won the tiebreaker 5-2, giving Hopkinton their 4th point against Whitinsville Christian. "When the other team started to pick up their game, we started to suffer. We weren't expecting it, but once we settled down and played "our" game we were able to recover," said Austin.
Denny Lamachia, Hopkinton's usual 1st singles, sat out due to minor injury and to allow fellow varsity players to take their place representing the team.  The Hillers' final two season matches are home on Wednesday, May 25th against Dover-Sherborn and home on Thursday, May 26th against Westwood.