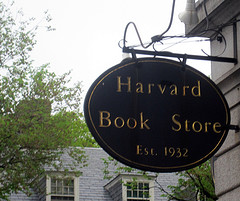 By Paige McDermott
Most HHS seniors who took AP Psychology this year participated in a scavenger hunt around Harvard Square in Cambridge, MA on Monday, May 23.  AP Psychology teachers, Mr. Sullivan and Mr. Hamilton, organized this field trip as a reward for taking the AP exam.
The scavenger hunt consisted of four sections, and students were allowed to start as soon as they boarded the buses.  The first section contained facts about each of the chaperones, and students had to figure out which fact went with each chaperone.  Once they got the correct chaperone for each fact, they received a signature.
"This was a tricky section; the facts ranged from whose commute to work is the farthest to who had the nickname of 'Beans' in high school. Each fact was random but the students did learn a lot about the faculty of HHS," commented participant and HHS senior Ashley Hoyt.
The second section was a page with categories such as "List five words that children often mispronounce" and "Name five things people yell at", and students had to find five things that fit each category.
Next, students were given a list of places around Harvard Square that had some relationship to psychology, like bookstores, B.F. Skinner's house, William James' house, and a cemetery.  The students had to find these places using the maps that were provided, and take a picture of the front door of each place.
During their last task, students had to be creative and relate their experiences in Cambridge to psychology terms that they have learned throughout the year.  Overall, HHS students enjoyed the trip and had fun exploring Harvard Square.