The Struggle to Recycle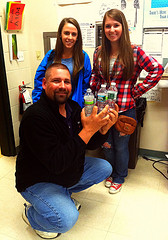 By Kayla Sullivan
With only a few members left, the Environmental Club/school recycling program HHS biology teacher Jim Marzec started 9 years ago is fizzling out as the school year comes to an end. Â After the class of 2011, whose seniors were vital to keeping the program going, graduates, there may be no one to take on their essential roles.
Recycling "is something that has to happen in this building," Mr. Marzec stated, "This school does a good job of making Poland Springs rich – we fill 7 large recycling bins with bottles each week."
However, it's impossible for Mr. Marzec to do this on his own. Â If no one steps up, HHS students and staff may be forced to throw away their bottles for the first time since 2002.
Soon to graduate, Environmental Club President Catherine Leonard is encouraging underclassmen to join the club. Â She said, "It's a really nice club that's flexible to work with, you can really take on a leadership role and take charge and make the club what you want it to be. Â And you're making a difference."
Senior and club member Kelly Ryan added, "You're more of a member than a number in this club because it's smaller." Â The club picks up the recycling, plans fundraisers and contests, and attends Envirothon, an Environmental Science Competition, at the end of each school year.
"I try to run it in such a way that I try to give ideas, but it's basically student-driven. Â If they want to try to get involved in something in the community, they can," said Mr. Marzec, who agreed with his club members that spreading awareness is the most important thing they do.
Mr. Marzec acknowledged that unfortunately, as this school year progressed, the sophomores and juniors in the club got involved in other things. Â  "But the fact remains that you still have to think about our ecological footprint," he said.
Anyone who is interested in keeping the club and the school's recycling program going is encouraged to contact Mr. Marzec. Â He stated, "Those who don't want the program to go away should join – those are the people I want."