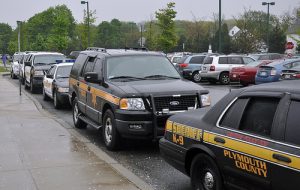 Editorial by Kayla Sullivan
On Monday, May 16th, HHS Principal Ms. Geary announced over the loudspeaker that there would be a 20 minute lock-in exercise. Â However, she added that teachers should continue teaching – the first clue that this was not actually a serious drill. Â While students and teachers were locked in their classrooms, Middlesex Sheriff's Police brought in 9 dogs to conduct a search in an attempt to find drugs in lockers or parking lots.
According to Officer Powers, School Resource Officer, no drugs were found, and many HHS students are wondering if administration was actually hoping to catch students by searching these simple places. Was this passive search just a "warning" of what is to come? Â Or was it the school's way of taking action but also avoiding the harsh feedback a more intense search could possibly receive from the community?
Ms. Geary first threatened this random dog search at the HHS drug and alcohol assembly this past February, which also had a sheriff's officer bring one of the dogs for show.  However, this attempt to warn students was no more successful than the actual search that took place 3 months later, and many were commenting on how cute the dog was instead.  Also, students did not appear to be intimidated by the search; in fact, many found it amusing, especially because no drugs were found.
So, if the search was not meant to be another warning, but rather "the real thing", when will the school actually get serious about addressing drug problems?  What about searching backpacks or people?  After all, there is only a month of school left, and the seniors will be gone by next week.  If administration really wants to make one last impact, they will have to act fast.