AP Exams Right Around the Corner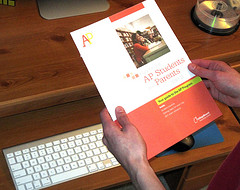 By Karen Podorefsky
The AP exams are right around the corner, and HHS students will be taking them starting on May 2nd through the 13th.  Testing locations include Hopkinton High School or the First Congregational Church, although dates and locations depend on the subject of the test.  Many students are stressed about studying or receiving high scores, but HHS teachers have confidence in their students' preparedness.
Teachers all have their own way to prepare their students for the exam.  Michael Sullivan, a current AP Psychology teacher at HHS and a former employee for the AP Psychology sector of College Board, said, "We try to do 'spaced practice' in our AP Psych preparations. That is, studying carefully but in small increments over an extended period of time. We also rely heavily on the 'test prep' graphic organizers for each unit. That helps us keep track of what we need to know."
AP Literature teacher Tim Murphy shared, "Unlike tests such as AP Bio or US History, the AP Lit exam is primarily skill rather than content based, so we begin getting to know the exam and practicing its different parts very early on. By this point in the year, my students have had lots of practice with the various types of literary analysis and essay prompts, so I don't heavily emphasize test prep in the final weeks before the exam."
"I have been doing many things to prepare the students taking AP Environmental Science including providing opportunities to take practice exams, study guides with key terms and concepts, tips on writing open response questions, and encouraging students to prepare their own study guides and form study groups to help each other be successful on their exams," stated HHS teacher Charlotte Shire.
HHS Senior Elizabeth Kelley said, "Mrs. Williams has been giving us AP [Art History] type multiple choice and short answer questions on every test and has been grading them like it would be graded on the AP test, which is super helpful. She has also done after school sessions to learn more about modern art. I do feel prepared, but I know that there will be questions that we can't prepare for. I think she has prepared us as much as possible."
As the AP testing weeks get closer, HHS teachers and students will be working even harder to prepare for the AP exams.  All teachers agree that students should get a good night's sleep before the test, and eat a good breakfast, have confidence, and relax on test day.