School Nurses Day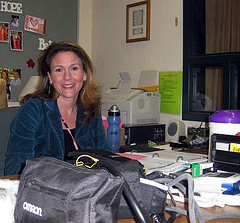 By Meghan Fleming
Some HHS students may not be aware that May 11th is National School Nurse's Day, and if you ask Sarah Patterson, the school nurse of Hopkinton High School, this day is only sometimes recognized.  Despite this, HHS students greatly value Mrs. Patterson, and often rely on her for cough drops, medicine, band-aids, a quick rest during the school day, or just someone to talk with.
"Mrs. Patterson is so nice and caring. She is always there when we need anything," said junior Victoria Munger.
Mrs. Patterson decided to become a school nurse mainly because she "enjoys the opportunity to promote healthcare and wellness".  Also, she is not just a school nurse but also a mother, so having a very similar schedule to her kids is important.  She claims that the most rewarding part of her job is, of course, working with the students and their families.
It is clear Mrs. Patterson's work has had a positive impact on HHS, as senior Cody Labriola stated, "There is no other nurse like her."