HHS Twitter Craze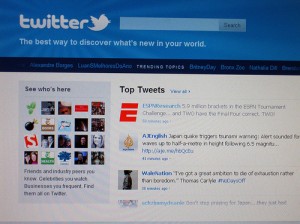 By Abby Levy
Twitter, a website where people can post their thoughts, has become a craze throughout Hopkinton High School. During classes, after school, and even on the weekends, HHS twitter members are constantly posting updates.
Twitter allows people to make posts, similar to Facebook statuses, and attach pictures and tag other people in them. The people who follow you receive these tweets and can tweet back at you. Some students think Twitter is useless, but most find it enjoyable. "I hate when people tweet conversations. That's not what it's for, but other than that I like it," said senior Mary Kate Shanahan.  Senior Emma Sweetapple said, "I just think it's' really creepy and no one really needs to know what you're doing and thinking all the time…I think it's demeaning our society even more aside from texting."
Hopkinton senior Kate Phelan says, "I have a Twitter, it's kind of silly and unnecessary but very, very addicting". Students can send tweets to Twitter through texts or on the computer, but either way there is no boundary to where they tweet or what they tweet about, and it has become an extremely popular way for HHS students to express their thoughts or post status updates.