HHS Robotics Team Invited to Attend World Championship-Request for Sponsorship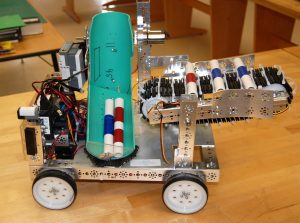 As a result of winning the regional contest in New Hampshire a week ago, the Hopkinton High School Robotics Team has been invited, for the first time, to attend the world championship held April 27, 2011 in St. Louis, Missouri!
This is a great opportunity to showcase the talents of the Hopkinton High students and is an honor for the local community. In order to make their dream come true, the team is asking for corporate and individual sponsorships to meet $5,000. A verbal commitment is appreciated as soon as possible, as the deadline for the team to register is this Friday, March 25. Please email your commitment to: Sterling Worrell at [email protected].
All donations are tax-deductible. Please make your check out to "Hopkinton High School," put "robotics" in the memo line, and mail it to Hopkinton High School, c/o Mr. Sterling Worrell, Robotics Club Advisor, 90 Hayden Rowe Street, Hopkinton, MA 01748.
Help the team and support the local community. Thank you for your generosity.