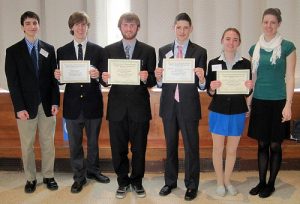 By Karen Podorefsky
Over the weekend of March 11th through 13th, fourteen delegates from the HHS Model United Nations Club participated at the UMASS MUN conference at the University of Massachusetts Amherst. Similar to their performance at the MIT MUNC conference last month, the club was very successful.
Club members Leah Raczynski, Dan Genkin, and Tyler Mikulis won Outstanding Delegate awards, Dan Quigley received an Honorable Mention, and Dan Liberta and Alyssa Carter were verbally commended. In addition, the delegation as a whole received the award for Best Medium Delegation, which is based on the points earned by each delegate for their input in debates among committees. This is MUN's fourth year in a row winning Best Delegation.
MUN President Elise LeCrone could not participate due to a prior obligation, but was able to be at UMASS for part of the weekend.  She and the club's advisor, Shannon Allberry, observed the committee sessions. "When I walked around this weekend, I saw how engaged, involved, and committed all of our delegates were. I was able to see everyone apply their research and preparation and see people's work pay off. I couldn't be prouder of our delegation," said LeCrone.
The theme of the conference was Africa. Each committee concentrated on some sort of issue ranging from the spread of Islam to illicit small arms trade. Â A UMASS MUN Crisis Analyst, Kiersten Rooke, stated, "We wanted to do a conference with a central theme, not super intensive or research heavy, where students could have a good learning experience. A lot [of the conference] is crisis-based to be fast paced and fun."
The UMASS conference was the club's last event this spring, but its returning members hope to continue the club's success next year.