HHS Parking Frustrations: Who is to Blame?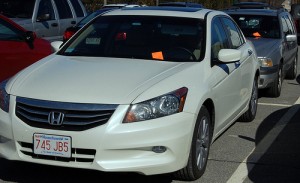 By Paige McDermott
Parking is quickly becoming an issue at HHS.  Students, parents, and even faculty are not parking where they are assigned.  School Resource Officer, Officer Powers, has been dealing with the problem.
Officer Powers has issued more parking tickets in recent months than earlier in the year, and he stated, "The beginning of the year, I did not [know that HHS had a parking problem]. Now I definitely do."
Many students agreed with Officer Powers.  Senior Kristen Boissonneault said, "Yes there is a parking problem, and I think it is because the grades, junior and seniors, are bigger than they have been in the past years, so there isn't enough parking spots. Also, none of the juniors park where they are suppose to park."
Since people are parking in the wrong spots, some students have been forced to park somewhere other than the spot they paid for at the beginning of the year.  Senior Marissa Bell stated, "Yes, I had to park illegally multiple times [because others were not parking where they were supposed to]."  Although Marissa agreed that parking is a problem at HHS, she also said, "I think we have more pressing issues."
Officer Powers plans to issue parking tickets as often as it takes to resolve the problem, and the school is assigning detentions and Saturday schools for those who are repeat offenders.