HHS Students Addicted to "Words With Friends"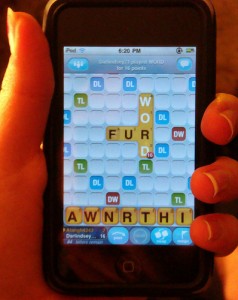 By Allison Langh
This past week, "Words With Friends", an Apple App, has become the top distraction for many Hopkinton High School students. Â The game first came out for the iPod touch and the iPhone in July of 2009, but 2 weeks ago it was released to a whole new market, Android phones. Â Students have started to play the game against fellow classmates in and out of school, sometimes only stopping to sleep.
Words With Friends is an application that resembles the board game Scrabble.  It enables users to look up their friend's usernames and start games against them, which can last for days depending on the speed of the players; there are no time limits. "Words With Friends" allows players to take their turn whenever it is convenient for them, and the creators of the application have also included a messaging system so users can communicate with their opponents at any time.
The game's popularity increases daily within the school, and the competition between students continues to heat up.  Students without "Words With Friends" feel left out and frustrated, especially blackberry users who don't have access to this application on their smart phones.  "All my friends are playing and it is so annoying that I cannot join them in the fun. I hope it comes to Blackberry phones very soon," said HHS junior Sophie Doherty.
Students playing this game have to use their creativity and vocabulary to come up with words that will earn them the most points.  Samantha Dandrade, an Android user, commented, "Coming up with new and odd words is the way to win the game. I do not think Words With Friends will die down anytime soon, kids in our school are just too addicted to it."