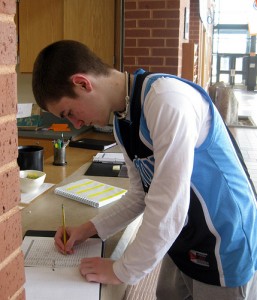 By Meghan Fleming
Graduation is just around the corner, and as a result HHS seniors have been exhibiting symptoms of "senioritis", also known as the "senior slide". Â Most students have worked hard the past three years to get into college, but once the acceptance letters start arriving motivation is hard to come by.
Putting a large amount of effort into schoolwork this semester has proven to be difficult for many seniors.  HHS senior Brendan Litavis admitted, "I find that I am studying not as much and for shorter periods of time".  Gwen Burnham-Fay, also a senior, said, "My standard of what work is has really changed.  Now if I take my backpack out of my car it's an accomplishment…there's just no motivation because our entire goal of high school has always been getting into college, but now we're already in college".
Senior Ashley Gorham claimed, "This semester is much easier academically than previous years".  Many students agree that the less demanding workload makes it even easier to slack off second semester.
Although most seniors also agree that senioritis is inevitable, many still try to make sure it does not get too out of hand.  Senior James Sands-Berking stated, "I will not continue to slide, but not do more work than I'm doing now."
HHS teachers have also noticed a change in their students' effort.  Senior AP Government and Politics teacher Steve Simoes said he started to notice the presence of senioritis "back before the start of second semester."  He plans to "talk more about personal life related topics, more political and less government," in order to engage his students more.  As June 3rd approaches and the senioritis symptoms worsen, it will become more and more difficult for teachers to keep their students' minds on high school and off of college.