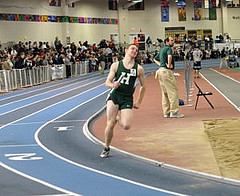 By Kellie Lodge
On Saturday, January 15th, members of the Hopkinton boys track team had a strong showing at the Division 3 State Relay meet in Boston at the Reggie Lewis Center. Â Although they were missing one of their best sprinters due to injury, HHS junior Joey McNulty, the Hiller boys were able to improve last year's seventh place finish to a sixth place finish, and had at least one relay team competing in each event.
The Hiller relay teams had impressive performances. Â Andrew Johnson, Peter Bransfield, Jake Whittles, and Josh Hacunda placed third in the 4×200 meter relay (1:35.25), Mike Ronan, Andrew Johnson, Ryan Slack, and Zach Hutchinson placed fifth in the 1600 meter sprint relay (3:48.08), Mike Ronan, Zach Hutchinson, Peter Bransfield, and Jake Whittles placed second in the 4×400 meter relay (3:34.22), and Ryan Webster, Jeff Corkum, and Jack Ryan placed fourth in the high jump event.
HHS junior Jeff Corkum achieved a school record for the second time in the past month. Â Corkum jumped 6'5", which was both a personal record and school record by two inches. Â Teammates Ryan Webster and Jack Ryan jumped 5'1" and 5'5", allowing the high jump team to place fourth out of fourteen in division three.
With a meet against Westwood less then a week away, Timmy Bolick said, "Yes, I do feel confident after the results of the relay meet. Â Westwood showed a lot of depth, which, as expected, will make this meet extremely close. Â I am confident that our team can perform at its best."
The Hiller boys are preparing for one of their toughest meets this season against Westwood on Saturday, January 22nd.