Hopkinton Track Impresses at Freshman Sophomore Meet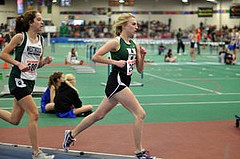 By Kellie Lodge
Impressive times were achieved by both the boys and girls Hopkinton indoor track teams during the Freshman Sophomore Meet at the Reggie Lewis Center in Boston, Massachusetts on Saturday, January 8th.
The girls team earned nine personal records, and out of those records three qualified for the State meet. Â Jordyn Labriola (600 meters), Leah Holmes (1,000 meters), and Melissa Lodge (1 mile) ran personal records and qualified for States, all placing within the top four in their races. Â In addition to running a personal best and qualifying for States, Melissa Lodge qualified for the freshman mile at Nationals as well. Â Other team members with personal bests included Liz Allen and Allison Monaghan in the 300 meters, Katherine Ronan in the 600 meters, Emily Viehl in the 1,000 meters, MaryKate Cavanaugh in the two mile, and Jaclyn Chrico in the shot put.
Girls track head coach and boys track distance coach Brian Hall stated, "What they did today gives me extra options and I believe all will play an important part in our meet against Westwood for the title.  Nothing, however, changes. Barring injury or illness on either team, I think the meet goes down to the last two events – the mile and 4 by 400 meter relay."
Sophmore Leah Holmes also contributed to the large amount of personal records and qualifying times of the day.  Although Holmes was originally seated sixth in the 1,000 meter race, this did not stop her from getting a top spot.  Before the race, Coach Hall reminded Leah that the qualifying time for States was 3:20.  With the qualifying time fresh in Leah's mind, she knew exactly what her goal was for the race.  Holmes finished third overall and ran an impressive time of 3:18, 10 seconds faster than her previous best time.
The boys team posted five personal records, and one qualified for the State meet. Â Tim Bolick ran a personal best, qualified for States, and won the one mile race with a time of 4:41. Â Other runners with personal bests were Corey Branch in the 600 meter, Nick Giordano in the 1,000 meters, Patrick Levenson in the two mile, and Ryan Slack in the 300 meters.
Sophmore Patrick Levenson suffered a stress fracture in his foot in mid fall and was only cleared to train regularly shortly after Chritmas; however, he ran a 10:37 in the boys two mile race. Â "I felt sick because I was nervous and uncertain. It was totally unpredictable since I hadn't been able to train that much," he stated. Â The buildup of nerves and excitement caused by racing usually results in the competitors going out hard. Â "The last two laps, I knew I could potentially place in the top six and get a medal, so I began picking people off. Â At the last straightaway, I thought about all the biking I did during the six weeks off on injury in order to stay in shape, and how I would not let that go to waste," Levenson said.
With all of the new accomplishments brought on by the Freshman Sophmore Meet, both the guys and girls teams are preparing for their meet against Westwood on January 22nd, which will determine who brings home the Tri-Valley League indoor track title.