Are HHS Students Showing Respect This Year?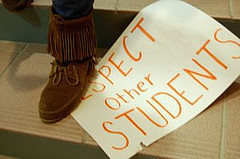 By Samantha Dandrade
There has been a debate about whether or not there has been a heightened level of disrespect forming at HHS. Â According to HHS senior, Â Andrew Tegeler, "Disrespect occurs when people are rude and do not treat others the way they would want to be treated. " Â There are mixed opinions coming from the students and faculty around the school. Â "I think for the most part, people are nice, and they don't make fun of people outwardly as you see in movies sometimes," said HHS senior Karen Podorefsky.
"I think students are more respectful this year than last, especially with the parking situation. Last year, I had to give out several hundred parking tickets because people really didn't care…this year has been so much different and I haven't really had to write as many parking tickets, and I really feel that students are really being more respectful with the parking situation and it certainly makes my job a whole lot easier," said Officer Powers.  HHS custodian Larry Keane shared his opinion as well, claiming, "On very rare occasions do I see a student showing disrespect, only once in a while. Students are usually pretty good about picking up their mess."
From the students' perspective, many acts of disrespect are a result of academic dishonesty. Â "I think our school does have a lot of academic dishonesty, and we see it mostly around finals and big tests and essays, and in classrooms," stated Cat Pappas, a senior at HHS. Â Karen Podorefsky also took notice to this trend, and stated, "In specific classes, yes, there is academic dishonesty, like when the teacher doesn't do anything about it or when the teacher knows about it and doesn't really care."
"Yes, we do have a couple of students who are disrespectful towards the staff and towards the building…and we have had kids suspended for smoking marijuana right in the school itself so they weren't really trying to hide it… having consequences for someone who is being disrespectful is a good determinant, or even education to explain to people why it's wrong to be disrespectful," shared Officer Powers. Â The question is, what about the kids who don't get caught? Â According to HHS senior, Karly Biggs, "Confronting the person outright or going to a guidance counselor or a teacher is the best way to work it out."
Recently, a disrespectful event occurred at HHS.  The students involved are unknown, although it is possible that other students may have seen the incident and not reported it.  The event occurred during lunch and involved a student or students shredding up fact sheets about the health effects of marijuana, which were created by members of the HHS S.A.D.D. club, and had been left on the S.A.D.D table between lunches.  The club members had stapled the facts to bags of candy and were handing them out to students at lunch. The teacher who advises the S.A.D.D club, Mrs. Place, was upset by this incident, and stated, "We should be able to leave these things there on the table between lunches, there shouldn't have to be someone there watching them, I don't think, but apparently we do.  It makes me feel like I can't give things out, kids leave wrappers everywhere, but unfortunately, that's how we kind of get things out there as a group is by handing things out, but I feel like we can't do that anymore if that's what's going to happen."
So it is up to the students here at HHS.  If any students have ideas or comments of ways to improve the level of respect here at HHS, notify S.A.D.D, BeFree, or the RESPECT committee.  It appears that Hopkinton High School may have hit a few bumps along the road, but its level of respect is improving as students and staff work together to create a better school.