Spirit Week Reactions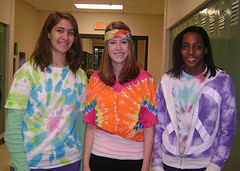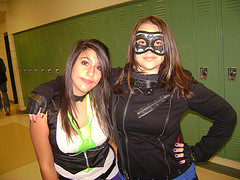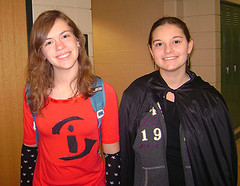 Students have mixed emotions on this year's spirit week.  Spirit week consisted of pajama day (October 12), superhero day (October13), and tie-dye day (October 14), leading up to the school-wide pep rally that Friday.  Students showed varying amounts of spirit throughout the three days, with distinct differences in participation on a day-to-day basis.
Though many students were not excited about spirit week, superhero day was loved for the room for creativity and individuality it provided.  "I think they kind of suck, except for superhero day, because I have an awesome Batgirl costume," says Kate Satterfeild, a junior.  Costumes ranged from all-out, with a mask, hair dye, and outfit, to a simple cape.  Among the most popular costumes worn by students were Batman, Superman, and political figures, one of the most original being Colin Roshak as Dipsy the Teletubby.
The day on which most studnents participated was, by far, pajama day.  "Pajama day seemed like the most popular, based on the number of students that participated," Mr. Ghosh,  assisstant principle, observes.  The ease of dressing up for pajama day could have contributed to this fact. After all, some students arrive at school wearing pajama pants even when it is not spirit week.  The fact that it is acceptable to come to school looking like you just rolled out of bed seemed to have won the attraction of most students.
Tie-dye day was not so unanimously received by the student body.  "I like pajama day… (but) tie-dye day was boring," comments Steffi Bell-Chapin of the sophomore class.  This sentiment seems to be shared among a substantial portion of students.
On the other hand, lack of participation in spirit week did exist among a portion of the student body.  "I didn't participate in any of them, it's not that they weren't boring, I just wasn't into it," explains freshman Karl Sargent.  By not dressing up for spirit week, many students simply chose not to show school spirit.  Some participated in what could be called a half-hearted way, wearing an off-hand tie-dye outfit for tie-dye day and a spare Halloween costume for superhero day.
Spirit week was not a complete success in the eyes of the students.  Part of the problem may lay with the themes themselves. "We need new ones," Dan LaBerta, a junior, says. Freshman Mackenzie Britt agrees; "(The themes) need major improvement," he says, and adds,  "…no one did them."  Students believe that these themes have been used many times before; they are becoming disappointed in the lack of creativity used in devising them. Perhaps new and innovative ideas would spark more participation by the students in spirit week. It serves as a testament, however, to the collective school spirit of HHS that so many students dress up for spirit week no matter what they may think of the themes.