HHS Students Enjoying New Mandarin Classes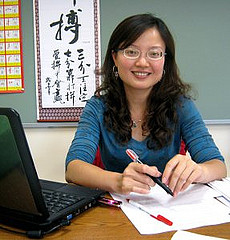 by Kayla Sullivan
Jiling Pan, English teacher at Ping Xiang High School in the province Jiang Xi, China, was one out of the fifteen teachers chosen by the American Councils of the Teachers Critical Language Program to teach Mandarin and Chinese culture in the United States for one year.
Mrs. Pan, or better known as Pan Lao Shi to her thirty-two Hopkinton High School students, teaches two Mandarin classes and one Chinese Culture class at HHS.  Although Mrs. Pan is teaching a new subject in a foreign country for the first time, her students have found the classes both fun and informative.  Ryan Page, a junior at Hopkinton High School, is taking Mandarin this semester. "Every single class is fun, and it doesn't feel like we're doing work because we play fun games and activities to learn the language," Page said of the course.
Along with the students, the High School Staff and community have responded very positively to hosting an international teacher. Â "All the people here are really friendly to me. Â The principal, my colleagues, the parents, and the students are really nice to me. Â They help me and support me," said Mrs. Pan of her experience so far. Â She also added, "The people here show their hospitality to me, I feel very comfortable."
Ms. Geary, Hopkinton High School Principal, thinks that the school's new Chinese program will set it apart from other schools. Â "It's an important way to get kids ready to live in the twenty-first century society in the sense that so much of our partnerships are with China, so it's important for kids to understand the Chinese language as well as some of the cultural aspects of China," she stated.
Mrs. Pan made the decision to teach in America in hopes of improving her English and spreading some knowledge of the Chinese culture to those who do not know a lot about it. Â Says Pan, "Many people here have never spoken Chinese before, so they know little about China and the Chinese culture. Â I think it's a very good opportunity to spread the Chinese traditional spirit and the Chinese culture." Â As for traveling to a foreign country, Pan stated, "I like to go and visit different places, make new friends, and have different experiences."
Mrs. Pan will continue to teach Mandarin and Chinese Culture at HHS throughout the 2010-2011 school year before returning to the city of Ping Xiang, China.