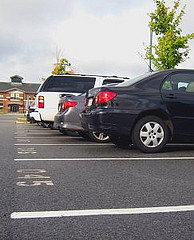 By Caroline Devine
While most juniors and seniors are happy to drive, some are stressing over getting to school on time due to their parking spot.  There are a total of 6 parking lots for students, some being a minute or two walk, and others up to 10 minutes.
This year more students are complaining in the halls about their assigned parking spot, but Officer Powers stated, "I don't know of any parking issues that we have right now, last year we had a lot of parking issues, but I'm not aware of any now because I haven't had any students come to me and complain about not having a spot to park."
Most of the students who are unhappy with their assigned parking spot are juniors who have to park in the K and J lots, which are the farthest lots from the school.  K lot is across from the lacrosse fields near Hopkins, while J lot is next to Field 10. "The thing about K and J, those parking lots are mainly for juniors, and juniors aren't even supposed to park at school. Yes it's a long walk, but they shouldn't even be parking there anyway," said Officer Powers, who stated that parking is mainly a senior privilege.
Sami Dwyer, a junior, unwillingly parks at K lot said, "The walk up from K lot absolutely stinks it just makes you feel gross after and it's too long," she also stated, "It's not fair. They should fill up all other possible spots before and give closer spots to kids who drive everyday, not have spots for seniors who don't have their license yet."
When asked his opinion on the K and J lot complaints, Mr. Jordan, a substitute teacher, stated "If students come in a little late, there should be some leeway. I've noticed traffic in the morning."
Connor Farrell, a junior, parks across the street at J. C. Parmenter, Inc. Farrell doesn't have any complaints about it and says he parks there because it's free and closer to the school than J lot.
So, is there really a parking issue or have HHS students become too lazy to walk?
Loading ...