Unite Welcomes Incoming Freshmen at Step-Up Day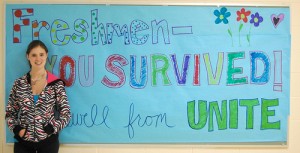 By Adrian Emrick
Another year goes by, and the cycle repeats.  Seniors graduate, juniors replace them, and all of the other grades move up in the world.  With this comes the replacement of freshman with the current eighth graders.
Entering high school can be a daunting task. Its a new building with new rules, new teachers, and new classmates.  Many struggle with the first few weeks, but all eventually come to love high school for the freedom and independence it offers. Unite and the school faculty aim to aid in this awkward transition by holding their annual "Step Up Day".
It is a day set aside for the up-and-coming freshman to get a tour of the school, and to meet some of the teachers they will inevitably have over the next four years. It is a day meant to alleviate some of the pressures that enter what will be a new school for them.
"The Unite mentors are there to guide the freshmen, and to provide support and answer any questions freshman might have," says unite mentor Mary Kate Shanahan.
Step Up Day this year is Tuesday June 15th. It will occur after finals, so that the high school is emptied of the majority of its occupants. Shanahan said, "Step up day is meant to give the students a look at the high school before it gets filled with 1000 people they don't know."
Close to 100 of next year's juniors and seniors in Unite will be welcoming the 300 incoming freshman to our lovely school, greeting them and doing activities and showing them around.  These mentors, in groups of four, will be assigned to a group of 14-15 freshman that they will visit in advisory all next year.