Environmental Club Collects Change for Oil Spill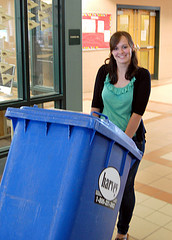 by Adrian Emrick
This past April, an explosion on an oil rig in the Gulf of Mexico killed 11 workers and badly damaged an oil pipe, sending millions of gallons of crude oil spewing into the sea. Â At present, this oil spill is the largest in U.S. history and continues to flow. It has triggered outrage and action, including a response from Hopkinton High School's Environmental Club.
British Petroleum, the company leasing the rig, has responded poorly to the spill by most account, as it has taken over six weeks to just slow the leak, which they finally have done. BP's most positive estimates for the time necessary to clean up this mess is well into next fall.
The many millions of gallons of oil that has spilled has wreaked havoc and is continuing to threaten all the wildlife in a wide area that extends across four states.
There are, however plenty of environmentalists devoted to saving as much of nature as they can. Hopkinton High School's Environmental Club wants to play their part in cleaning up the oil.
This week they will be stationed at lunch collecting money that is going towards oil clean-up efforts.
Gwen Burnham-Fey, active member of the club, says "We are committed to saving the animals and the environment however we can." She adding "Even though its only one high school, and only so much money can be donated, the school has to do its part in hopes that people everywhere are following suit and this disaster will be no more in a no time at all."