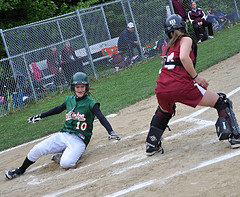 By Ryan McLean
HOPKINTON- Tuesday the Hiller girls softball  team continued their undefeated season with an impressive 15-0 win at home against Millis. The 13-0 Hillers played strong from the start scoring 6 runs in the first inning. Sophomore Nicole Mellor pitched near a perfect game, only walking 1 batter in 5 innings. She was able to complete the no-hitter striking out 10 batters. Mellor was supported by strong defense with the girls turning some key double plays and making great defensive plays behind her.
Not only did the girls play strong defensively, but they were unstoppable offensively. "After a great game against Bellingham we wanted to keep the same intensity, and keep up the momentum to get another win," Junior Paige Phelan was quoted saying. After scoring the 6 runs in the first they were able to tack on another 9 runs to reach the mercy rule which ends the game when a team is up by 15 runs. Junior Chelsea Adams knocked in the game ending run of Jaclyn Foisy in the 5th.  "We played very well against Millis, we crushed them," said Junior Nicole Anagnostaras.
This win makes the 13-0 girls the highest ranking team in the TVL league, no other team remains undefeated this late into the season. Having only needed to win 10 games to be qualified for the TVL tournament, the girls are secured a playoff berth.
"If we keep playing with the determination we have had all season, and keep having fun, we should do good in the tournament," said Mellor.
The girls look to keep on rolling with a game Thursday against Medway. Their regular season concludes May 24 with a game in Medfield.