Motorola Droid Rivals Apple iPhone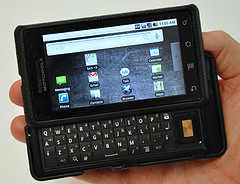 Review By Katie Potenzone
Ever since the iPhone came out, technology shoppers have been on edge thinking about how a phone could possibly rival it. That time has come because Motorola has come out with the Droid, the first Android operating system based phone of its kind.The Droid is a Verizon Wireless phone, and currently on sale at Verizon stores for $199 after a $100 mail-in rebate. However, Best Buy currently has the Droid on sale for $129 with no mail-in rebate.
With a multi touch screen and thousands of applications available on the Android market for free, there is no wonder that this phone is a crowd-pleaser. Motorola calls their newest creation a "Pint sized power plant." There wasn't anything forgotten when creating this masterpiece. It is believed that Motorola used the Droid to make a big comeback, after their decline.
According to Motorola, the smart phone has, "App mashing and multitasking [abilities]. It can connect at breakneck speed." Motorola also claims that their phone is more then just a phone, by stating, "Power and intelligence can be more than a phone."
With a five mega pixel camera that takes pictures as well as shoots video, the Droid is about just as good as the average digital camera. You can also upload the photos to Facebook, Myspace, and instantly e-mail them.
Because the Droid is a Google based phone, it comes pre-loaded with many Google apps, and syncs your gmail account and Google calendar in real time. Google maps, with turn by turn navigation allows the Droid to instantly turn into a GPS and find destinations quicker than most conventional GPS's from anywhere in the world. The Google Maps app comes standard on the Droid at purchase, and also incorporates Google search into the maps application. The search can be handy when trying to find a store or search an area for restaurants.
In comparison to the iPhone, some may think that the Droid is better because there is the the option of a full QWERTY keyboard, and a virtual qwerty keyboard. The Droid is also equipped with a "talk to text" feature that takes your words and types them out into a message. Talk to text could help solve the texting while driving problem that troubles many multimedia phone users. The Droid also has an app that can be downloaded that brings your iTunes library to your Droid. Also, the Droid has Pandora radio that can be accessed all the time, and allows songs to be purchased and added to iTunes.
There are many other features that the Motorola's popular smart phone has to offer and more will continue to become available as time goes on. The Droid by far has many competitors beat with its large HD screen and sliding QWERTY keyboard.