HHS Internet Blocker: A Good Idea or a Waste of Time?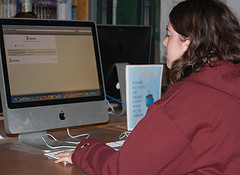 By Jenn Tate
Everyone at Hopkinton High School knows the school uses an internet blocker firewall called Astaro to try to control which sites the students visit. The school blocks sites by categories such as games, drugs, nudity, and weapons, and it also blocks specific sites, including Facebook. What is not so clear to many students is why a blocker system is even in place. Although the high school didn't used to use one, it now does because laws have changed. Current state law says that the school has to use a blocker. In fact, it would lose certain funding if it didn't.
The school also has reasons other than the laws to not allow certain sites to be visited. Gaming sites, for example, affect bandwidth and slow everybody down. Still, there will always be proxies and other ways around the filters. As Mrs. Henderson, the high school's data systems analyst, says, "If a block is there, it is for a reason, so finding a way around it is not the best idea."
Hopkinton High staff can have an influence on the blocker system. Although the school gets the final say, teachers are able to suggest certain sites to block. The school can even tell which blocked sites students are viewing anyway.
Students seem to feel that there is both good and bad in the blocker system. "It attempts to prevent people from playing games and getting distracted from work, and it also makes sure people don't play loud, distracting music in the library," says senior Johanna Berton, "but there are a lot of ways to get around it, so it's kind of pointless."