By Avery McKenna
The Hopkinton High School Drama Club devotes every weekday after school in the auditorium to rehearse their production, either a musical or a dramatic play, in a safe environment filled with teamwork and self-expression.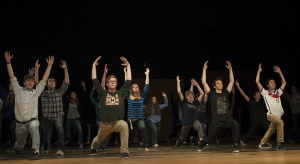 As the faculty advisor, Valerie von Rosenvinge plays director, producer, and mentor to the students in the Drama Club. When the school was built in 2001 and the theater was created, there was no one hired to run it. In the spring of 2002, Valerie was hired as head of the drama department.
Valerie von Rosenvinge creates a safe haven for students wanting to express themselves. She believes "a child can't be at their best unless they feel free to make mistakes, and that requires that we create an environment where they feel it's okay to take risks."
Josh Normandeau, a junior at HHS who has participated in theatre since middle school, said drama club means "being part of a team to create a great community and a great show that the audience will enjoy."
Teamwork is the foundation of this club. Julia Powers, a senior at HHS, said "this club brings me the opportunity to create something for a community and not just for myself, and to be able to create a work of art that is real and alive."
The club works hard, always improving their skills and learning. Colleen Malloy, a junior, has been involved in theatre since the first grade, and believes "the only way to gain the skills is to practice and be in shows."
This club is an educational experience, not a competitive location. It provides a place to gain skills of acting, but also a place to learn lessons that will resonate with the students. Malloy said "I have learned a lot about acting, but a lot more about friendship."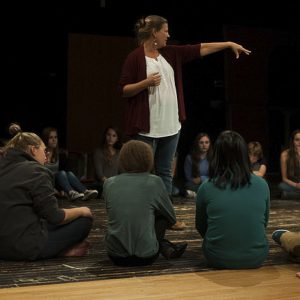 Drama Club provides a place for anybody, and Valerie Von Rosenvinge makes sure of it. "I have created the environment that I wish someone had created for me," said Von Rosenvinge. "For a freshman that comes into the school that could potentially feel very lost immediately, they come into a community that's incredibly embracing, and by the end of the 10-12 week period those kids feel like they belong somewhere."
The Drama Club is a welcoming and exciting extracurricular activity that meets everyday after school instead of just meeting once a week, in order to continuously work on perfecting a play or musical.
The Drama Ensemble will be performing their production of Singing in the Rain from Thursday November 20th to Sunday the 23rd in the Middle School Auditorium.