Pan Thai: Spicing up Hopkinton
By: Ryan Cunniff
Pan Thai, owned and operated by Head Chef Tien Tran and family, is a new restaurant that opened in summer 2013 and specializes in serving healthy and delicious Thai creations in Hopkinton.
Thai food is Asian style cooking with an emphasis on healthy and flavorful options. It incorporates both taste and health through the use of many spices and herbs, along with a variety of vegetables and meats that come together to create a unique and flavorful dish.
According to Tran, "Thai cuisine is different in a sense that it uses a lot of vegetables and other healthy options. With Thai, there is not a lot of cheese, fat, or milk. Nowadays everyone is looking for healthy alternatives and Thai is perfect for that."
Tran is constantly trying to make his Thai creations healthier, but still full of flavor. "We use cashews and peanuts to make a buttery, creamy taste and pineapple to sweeten dishes up," he said.
Tran's first experience with owning a restaurant came 10 years ago when he bought a restaurant from a friend in Boston. Having a degree in architecture, Tran had originally designed the restaurant, and he later purchased it. This restaurant was also called Pan Thai and was known to have one of the best Pad Thai dishes in the Boston Area.
Tran moved to Hopkinton seven years ago in order to send his children to a public high school of high quality, but he found that the daily commute to Boston was a hassle. Therefore, when the opportunity to open up a restaurant in Hopkinton arose, he and his wife immediately seized it. "We had been thinking about having a restaurant here in Hopkinton for awhile," said Tran, "It is just tough getting one because there is not much commercial space."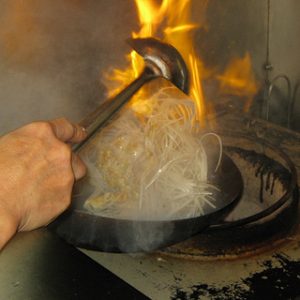 Denise Card, a Hopkinton local for 20 years said, "It's so nice having something refreshing and new so close to home." In a town with mostly pubs and pizza places, a Thai restaurant is a different and healthier option.
Pan Thai is not only popular among the town's adults, but among high school students as well. "I personally really like Pan Thai," said Emily Katz, a senior at Hopkinton High School, "The food was very affordable for a high school student, and it was really good!"
Katz's favorite dish was the Pad Thai, a staple in any Thai Restaurant. She described it as being "so delicious and creamy."
Pad Thai is Pan Thai's signature dish. Tren uses rice noodles in the dish, which is healthier and friendlier for customers with an allergy to gluten. "You won't get this anywhere else," said Tran.
According to Tran, he "learned from the best" when it came to Pad Thai. When he owned and operated his Pan Thai restaurant in Boston, he cooked alongside one of the city's first Thai chefs. This chef was known for creating Crispy Pad Thai, a delicious variant of the Pad Thai dish.
"One of the key factors in making a good Pad Thai is the Wok," explained Tran. A wok is a large rounded pan that is used to stir-fry the Pad Thai. Tran has two large woks that sit on large burners in his kitchen. "They are like little Jet burners," he said. The wok is important because its shape creates a lot of heat at the bottom to sear the food while using little fuel. Its large curved shape also allows chefs to toss the food freely and safely in order to evenly cook the food in an efficient manner.
Pan Thai is family owned by Tran and his wife, Orjit. Many of their other family members also work at the restaurant, including Orjit's aunt, and the wife of one of Orjit's uncles.
Tran encourages people of all ages to come to Pan Thai, as he aims to create a family-friendly environment. He believes that it is important for children to develop healthy eating habits, and he intends to show them that food can be healthy but still delicious in his dishes.