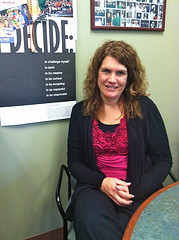 This article is part two of a three-part series on online education at HHS (part one can be found here).
By Kayla Sullivan
According to Ms. Linda Henderson, VHS Site Coordinator at HHS, 68% of seniors took an online course before graduating in 2011.
While HHS does not yet require all students to experience taking a completely online course before graduating, this may be part of their future plan.
"There was a piece of the strategic plan in Hopkinton that said that they want every student to graduate having to take an online course," explained HHS Principal Ms. Alyson Geary, "It's under discussion right now and it's not yet a graduation requirement."
According to Henderson, HHS has been trying to increase their online offerings to achieve this goal, which is "By June of 2014, 100% of all high school students will graduate having taken at least one on-line course." Â This was voted a part of the district Strategic Plan in September 2009.
"The goal was originally meant to help prepare our students for what they would be facing in college, or beyond high school," explained school committee member Mrs. Jean Bertschmann, "Since that time, we have added more online courses, but also more 'blended' courses, and the focus seems to be shifting to the skills necessary to access online learning, rather than a completely virtual class."
HHS has offered Virtual High School (VHS) courses since 2002, as the result of a Department of Education grant. Â Recently, HHS has added TEC Online Academy courses from The Education Cooperative. Both of these online options allow HHS students to enroll in virtual courses with students from many other schools. Â Additionally, the high school has developed some online and hybrid or "blended" courses exclusively for HHS students over the past few years.
Still the goal of 100% of HHS students completing an online course prior to graduating has not yet been made a requirement. Â Principal Geary explained, "We just weren't sure that it was the best option for every student, but we're certainly trying to get every student to have an online experience."
"Not all of our graduates are finding that courses which are online are required of them," said Bertschmann, "So we are in the process of fine-tuning the language in the goal."
Although the language of the goal is subject to change, "The main thing that will be consistent from the original goal to the final goal will be that we want our students to be prepared to study, work, and live in a world of rapidly changing technology," explained Bertschmann, "That means understanding how to use tremendous resources provided by the Internet, using them responsibly, and using them to communicate productively and collaborate with others."
HHS has begun ensuring that every student has some sort of online experience, however. Â All incoming students take Freshman Tech Seminar, a required course that aims to provide students with the skills necessary to succeed in a online environment. Â Although students still have to show up to the class, they must submit all assignments electronically.
Through these provided online experiences, it is clear that HHS values online education. Â "[Online education] gives students an opportunity to demonstrate responsibility, manage their time, figure out how they can be self-motivated and independent learners, and, it gets them familiar with the technology tools that they might use when they go to college," explained Principal Geary.
According to The 2011 Survey of Online Learning conducted by Babson College, 31% of higher education students now take at least one course online, and 65% of higher education institutions now say that online learning is a critical part of their long-term strategy.
Apart from the Freshman Tech Seminar, HHS offers junior students the option of choosing an online elective via online VHS or TEC Academy.
Senior year, however, is when students are given the most freedom with online course selection. Â In addition to VHS and TEC courses, "At HHS, we offer our own online course, Honors Physics, and some hybrid courses which have some classroom time and some online component: Journalism, AP Environmental Science, and Digital Photography," Henderson explained.
Some seniors even opt to take multiple online courses, in which case their schedules only require them to physically be in school for 47% of a total rotation. Â One full rotation consists of seven days, and each day is composed of four one hour class periods and one hour and a half class period. Â Compared to the typical schedule of an HHS student who is enrolled in all face-to-face classes, this schedule is unusually flexible for most high school students.
"I do think that for some seniors, that's the best thing for them," said Principal Geary, "Maybe working at their own pace and not having to be in school all the time, as long as they're doing the work and as long as it's good, challenging work, is okay."
Although most seniors had positive things to say about having such a flexible schedule, they also stated that not always having a teacher to push them to do their online work can be a challenge.
"I think the disadvantages would be that perhaps they get a little bit disengaged with their face-to-face courses because they're used to sort of doing their own stuff, and a lot of kids leave [their work] until the last minute," said Principal Geary, "But, I do think it's okay to give seniors more flexibility because it is kind of a transition towards college."
A trend in online education can clearly be observed at the high school level as well. Â In fact, according to a 2011 report from Project Tomorrow, 30% of high school students have taken a course online.
Also, according to "K-12 Online Learning: A Survey of U.S. School District Administrators," conducted by Babson College, almost 2/3 of the responding school districts are offering online courses. Â In addition, over the next two years, districts predict online enrollments will increase by 19% and blended enrollments by 23%.
As for HHS, "I'd love to have more online courses within the school," Geary expressed, "It just depends on if teachers are willing to offer them and put all the materials together."