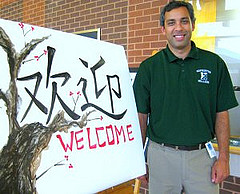 By: Samantha Dandrade
There have been many new additions to Hopkinton High this year, and two of them have gills. "Blemo" the clown fish  and his tank mate are currently living in a salt water tank in Mr. Marzec's room and were brought to Hopkinton High School by the new Vice Principal, Mr. Ashoke Ghosh.
A former Biology teacher, Mr. Ghosh brought these two fish with him when he began his work here July 1st. Â The fish are from his classroom at the High School of Commerce in Springfield, where he worked for four years. His students named the fish "Blemo" for "black Nemo" because of his unusual black color. The other fish, a Mandarin Goby, has yet to be named, although students are starting to brainstorm ideas.
Before Mr. Ghosh taught  at Springfield he studied Biology at Colby College in Waterville, MN, and minored in art. Shortly after college, he and his roommates from Colorado managed a restaurant  for two years before he began to pursue a career in education about ten years ago. Mr. Ghosh first started teaching in Ohio and has been part of 3 different school systems prior to ours, although this is his first official position. He previously taught part-time and focused on coordinating and managing professional development.  "I kind of started transitioning a few years ago…managing professional development, working with teachers to ensure that the programs were being implemented correctly," he said.
The initial draw to Hopkinton was the proximity to where Mrs. Ghosh works as a radiologist at Beth Israel in Boston. Once Mr. Ghosh got here; however, he realized why the community would be a good fit.  "The school size seemed to be pretty good, and we were also looking for a good community for our family to settle in, so I think as far as the school district being really good and that the students seem to be a really good group of students that have a good balance and that are involved in a lot of activities, but also education is important, so I think as far as settling long term for us it seemed like a good fit." His first impression of the HHS staff that interviewed him seemed to be a good fit as well.
Many people don't really know exactly what a Vice Principal does, but Mr. Ghosh was able to talk about the duties and responsibilities that come with his job. Â Mr. Ghosh handles the discipline for the first half of the alphabet, and he is in charge of making sure the new international students are staying on track, helping the new Chinese teacher feel welcome and keeping things organized, overseeing the science, technology, and math departments, keeping charge of the building and grounds, and getting the MCAS tests ordered and ready for the underclassmen.
One goal that Mr. Ghosh is particularly interested in pursuing is advancing the technology at HHS. The One-on-One laptop program has been a topic of discussion for a while, and Mr. Ghosh is excited to help put this talk into action by educating staff and parents about concerns with affordability and other issues. Â With more wireless in the school, well trained teachers, and further planning and discussion, this program could be successfully up and running in the near future.
The teachers and administration of HHS have welcomed Mr. Ghosh to their team, and look forward to working with him. Â Ms. Geary, Hopkinton High School Principal, stated, "I am really excited to have Mr. Ghosh as part of our administrative team, it's been very fun to get to know him and to find out about all of his talents and abilities. I think that he is going to bring a lot of value to our administrative team, and that he is going to do a lot for the teachers and for the students in this school."
Along with his hard work so far this year, the school is also appreciative of the tank and fish he donated. Â Blemo and the soon-to-be-named fish have just recently been joined by one of HHS's own additions, a long nosed hawk-fish, for everyone to enjoy.