From Kick Off To Stick Off
HOPKINTON, M.A.- Decorated Hopkinton Varsity Football player, Jack Guelfi, stepped onto the lacrosse field for the first time in five years this Monday. Jack played youth lacrosse for two years while attending Hopkinton Middle School, but gave it up in High School to pursue his passion, football.
"At this point in my Senior Year I've already achieved all I can on the Football Field, including a spot on the Salve Regina Football Team. So I figured, why not give lacrosse another shot," says Guelfi on the eve of the first tryout. Guelfi feels quite prepared for for the upcoming season despite his absence from the field. He is confident in his work ethic and athletic abilities obtained from football season.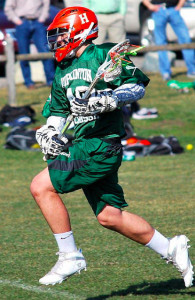 Guelfi started Varsity both ways for the Hiller Football Team in both his Junior and Senior seasons, earning himself a number of accolades both from his coaches and the Tri-Valley league. When it comes to translating from football to lacrosse he states "[I earned] TVL All-Star two years in a row because of my hard work in the offseason and mentality on the field."
Guelfi will be playing defense for the Lacrosse team. The team is excited for the addition of a football player to the team.
Hiller Lax Senior Mike Fajardo explains Guelfi's spot on the team stating, "Coach Norton really wants Jack to be the wall between our goal and the rest of the field. He knows Jack is a football player, which means he can bring both skill and aggression to the team."
Jack will undoubtedly bring his aggression and brush up on his skills. He says he is not worried about catching up on the skills.
"Footwork is prevalent in all sports. I learned a variety of steps that limit the time it takes for me to get places as well as put me in front of people so I can tackle them."
The very footwork he speaks about will be an even bigger asset to the team than his physical stature.
While Guelfi won't be tackling anyone on the lacrosse field this spring, it will be very interesting to see how he makes the transition. The varsity lacrosse team starts their season this Saturday with a scrimmage. Details on the opponent and its location will be released soon.