Michael Franchock: A Teacher Unlike Any Other
The room is dead silent, filled with students quietly completing a practice multiple choice exercise. Each of them has their head in one hand, pencil in another. Michael Franchock, an English teacher at Hopkinton High School, paces slowly up at the front of the room, wearing his reading glasses, and reading the passage his students are working on. Suddenly, his phone alarm goes off, signaling the end of the working period. At this point, he is sitting on a desk in the front of the room, dead center, curiously watching his students.
"Alrighty guys," Mr. Franchock says, putting down his glasses next to him, "what did you think?"
With a voice more powerful than a space shuttle taking off, and a witty sense of humor, Mr. Franchock is a character unlike any else. Born and raised in Pennsylvania, Mr. Franchock stayed local for college, attending Thiel College as an English major, and stayed loyal to his beloved Pittsburgh Steelers, whose posters decorate his classroom. He attended Washington University for his masters, and started his Ph.D at Northeastern.
"I planned on being a professor," says Franchock. "My assistantship wasn't renewed after I finished my masters, and I was unsure what to do. I decided to get my certification and fell in love with teaching when I student taught."
Mr. Franchock started teaching in 1993, and came to Hopkinton in 2004. He taught AP Language and Composition along with Mythology, but now only teaches AP Lang due to the increase in students taking the course.
"The discussions, the intellectual challenges, and the freedom to mold the course the way I want it to be are the three best things about AP Lang," says Franchock. "I get to have great discussions with brilliant kids every day."
Just as Franchock loves teaching the class, his students enjoy the class as well.
"[Mr. Franchock] garners the respect of his students and peers," says former student Mary-Paule Monks, who is now a freshman at Tufts University. "He's a very good teacher and I learned skills from him that I still use today."
While Franchock's favorite lessons to teach are discussions about capital and "What is text," they are not what he hopes students take away from the class.
"Teaching students to have a voice in the discourse, to empower themselves through words, is the most important thing they learn in my class," responds Franchock. "I'd like to think that kids have a much better foundation in writing and critical thinking after leaving my class. If that's the case, I feel I've done my job well."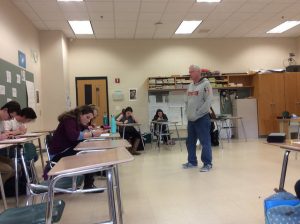 Mr. Franchock gets to see the payoffs of his work frequently, as he had the opportunity to teach his eldest daughter in class. He worried that he would not live up to her expectations as a teacher, that he would disappoint her.
"She always thought I was some kind of super teacher," Franchock recounts. "After she took my class, I admitted that I was worried that I wouldn't be good as she thought I was. She said, 'Dad, you're even better than I expected.' That was really special to me."
Although many students have many opinions, fellow English teacher Marie Martin sums up Franchock the best; "He is a mix of nerdy, intelligent, serious, and a little goofy too, both in and out of HHS! He also surprisingly remains delusional about the Pittsburgh Steelers!"