Seven teams of boys in grades 9 through 12 gather every Sunday in the Athletic Center to participate in the town of Hopkinton's high school recreational basketball season. This is the fourth year of the program.
Around four games are played on Sundays, and practices are held two times a week. Rec basketball is one of the most popular activities for high school boys.
"I have played basketball ever since I was a little kid," says senior player Matt Pettepit. "Once they gave us the opportunity to for high schoolers to play rec I thought it would be a fun, healthy way to spend my Sundays."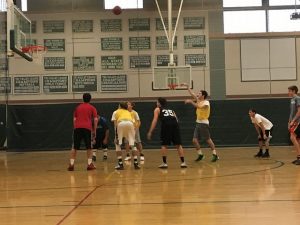 Rec basketball gets very competitive, with intensity rising each week. "I always get very excited when I get to play my friends in a game," says senior player Christopher Todd. "I love the competitive nature, I think we all have a lot of fun and it makes our friendship stronger."
The season runs for six weeks before the playoffs, and every team wants to take home the championship trophy. "We prepare a lot for games," said Todd. "We have to prepare like it's the NBA in order to get to that championship game."
The games are coached by parents of children in the league who take it just as seriously as their kids do. "I would really love for my team to win the championship," says Coach Fran Pettepit. "The boys have been working really hard and it would be nice if they finished their last season together strong. Some of these boys I have been coaching since they were young and it's been a privilege getting to watch them grow and develop as players."
The games are held for kids who simply want to have fun and love the game. In fact, members of the Hopkinton High School varsity team are not allowed to play rec basketball.
Matt Pettepit was a player on the varsity team last season and claims he just did not have as much fun as he does playing rec. "Rec really reminds me why I started playing the sport in the first place," he said.
"I think the program is great," says Coach Pettipet. "I enjoy seeing the boys get competitive with each other and I love having the opportunity to coach my own son."
The games even have their own fan crowd every week that comes to the games.
"These rec basketball games are absolutely riveting," said senior spectator Jonny DeMarco. "The players are outstanding. I look forward to these games as much as I look forward to Christmas! It's such a bonding experience for all our friends and we all get really into the game. Next week I think we are going to make signs."
Games are played every Sunday beginning at 1 p.m.