By Julianne Salvadore

Hopkinton senior Ashley Olafsen was the first and only student selected to deliver a TED-style talk at this year's annual MassCUE/M.A.S.S. Fall Conference at Gillette Stadium, leaving a lasting impression on the audience.
Speaking on technology and its power to spread both positive and negative ideas, her presentation entitled "Duality and Influence" prompted the crowded venue of 1,000 people to give her a standing ovation.
Although Olafsen spent a great deal of time talking about the restrictive messages of the media and advocating positive ideas for change. She specifically focuses on feminism and the problems young people face today.
"If media has the power to spread restrictive ideals, then media also have the power to spread transformative, powerful, positive ideals," explained Olafsen. "I talked about how I've been using technology to respond to the negative through workshops, writing, and speaking up. I also talked a great deal about feminism and problems facing girls & boys today."
Her video submission that earned her the chance to speak is a illustrates the nature of the talk she delivered at the conference.
According to guidance counselor Kiely Murray, who attended the presentation, "The crowd was engrossed in Ashley's talk. You couldn't even hear a pin drop."
Another Hopkinton attendee, tech integration specialist, Colleen Worrell took note of the amount of Twitter activity the speech generated, based on Olafsen's "message and the polished, passionate delivery of her presentation."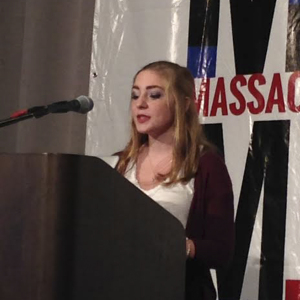 Murray added, "She spoke with passion and hope and engaged everyone in the room. For those of us that know her, it was a great moment to see her up on stage living out a dream of hers. She was clearly prepared and confident up on stage and represented HHS with integrity."
Olafsen was pleased with the results. "I am so proud of my talk. I am so proud of the way it turned out, and I think it reflects all of the time and energy I spent creating it. It was such an incredible day and I'm just so happy."
Olafsen's dedication and commitment has affected not only the audience at MassCUE, but also people in the Hopkinton community as well. Olafsen has run multiple self-confidence workshops and brought her knowledge to the web by creating her own organization M.O.V.E.ment (Motivate, Overcome, Value, Empower).
If the Twitter stream is any indication, Olafsen's speech left the crowd of educators highly impressed and proud of her status as the only student delivering a speech at the conference.