By Abby Carbonneau
Art Club is a place for Hopkinton High School students to go after school to be creative, and there are no requirements for the club. Students can work on any projects or ideas they so desire, and attendance isn't a necessity.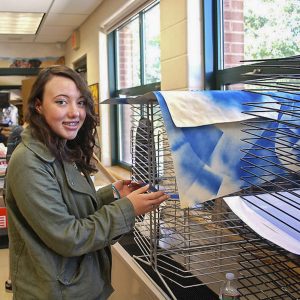 Members are not required to come every week because the club is more for working on projects than strict meetings. Â There are a few regulars, but typically the attendees change. Co-president Danielle McAree, junior, said "it varies, sometimes it's 20-30 people, other times it's 5." McAree has been coming to art club for all of high school.
Club Advisor Kristen Kellenburger, along with club officers make sure to uphold a creative, unpressurized, atmosphere. Lots of students say that they like the relaxed atmosphere of the club. "You're really free to do anything you want here," said Shifa Ahmed, junior. "I chose to join art club because I really like art and it's just a fun place to be after school."
Senior Maddy Boyce states, "I don't take an art class, I take all academics because I thought that was a good idea. To me it's a place where I can go do art when I need to."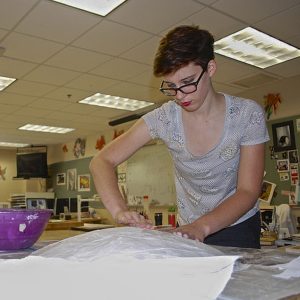 The club is supervised by art teacher Kristin Kellenberger. "I'm here as the adult in the room for sure, but I'm really here to support the presidents and help them do whatever projects they come up with for the club. I help everyone find the appropriate supplies that they need in order to work on whatever it is that makes them smile," Â said Kellenberger.
With all of the supplies available, the students are able to create a variety things. Boyce is currently working on part of her Halloween costume. "I'm working on making a shield out of plaster. I need to sand it, paint it, get brackets, harness, the whole shebang."
In addition to personal projects, the club is planning on working on some bigger group projects. "We might do a couple murals as a club," says McAree.
Art club meets every Wednesday from 2:00-3:30 in C204.