Boston Calling: Kids Escape the Suburbs
Article and photos by Shae Feather
In 2004, the Disney Channel movie "Stuck in the Suburbs" premiered, in which a famous musician comes to a small suburban town and befriends a group of young teens, curing their suburban boredom. Ten years later, the audience of this teen movie is now a group of millennial high school and college students preparing for life out of the suburban towns they grew up in.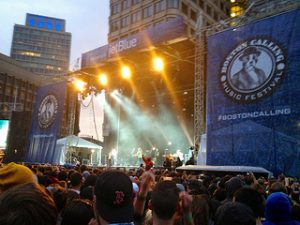 The Boston Calling Music Festival, a two and a half day outdoor concert that ranges in performances from the underground Kurt Vile to your childhood soundtrack Jack Johnson, is helping this group of kids get unstuck from the suburbs.
Taking place in Boston's concrete jungle, City Hall Plaza over Memorial Day weekend, the location brings the festival down a notch from the higher ranks filled by Coachella and Lollapalooza, but this means nothing to the kids living in the Boston area, because most of us have never been to a music festival before.
Having spent Saturday at the festival in the midst of the crowd, I spoke to many of my fellow concert goers and can easily say that the majority of the audience was made up of teens and twenty-somethings from towns that, at the furthest, are just a few hours outside of Boston.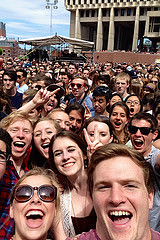 Every concert/festival brings concert goers in close proximity to each other and thus, socializing. Boston Calling brings close proximity that is extremely hard to escape, having a tight crowd spanning from the two stages to the concrete buildings in the back. The socializing will happen whether or not it is wanted, but many times it ends well.
Not only is the festival a chance for us to get away from our suburban towns, but it is an opportunity for us to dress as crazily as we please without a school dress code to consider. Outfits tend to resemble those seen on celebrities like Selena Gomez or Kendall & Kylie Jenner at similar music festivals. It's when girls wear crop tops and flower crowns, boys break from the Vineyard Vines conformity, and everyone wears the coolest outfit they own.
The price for the three-day festival was reasonable for the reached demographic to pay. $175 for three days general admission and 22 acts is an amazing deal that can be paid with part-time jobs, birthday money, or just given as Christmas gifts.
The weather forecast for Boston Calling Spring 2014 was a gloomy one- scattered rainstorms, clouds, and 50 degree weather. Still, the festival was able to sell out at 22,000 tickets each day. Friday was windy and cold and Saturday night it down poured. This did not seem to thin the crowd, which exhibits what bored suburban teens will put up with for a good show. Unlike the movie seen when they were kids, young people today are getting themselves unstuck from the suburbs by going to events like the Boston Calling Music Festival.