MA State Police Trailer Parked Outside of HHS: Questions Answered…Somewhat
article by Matthew Dickason.
Early this week a team of police officers and manufacturers of military and national defense products, Raytheon, first showed up on the Hopkinton High School parking lot in order to provide support for the upcoming Boston Marathon. It is impossible to neglect their presence on the campus as a whole, with equipment towering over the faculty parking lot, and many question their purpose.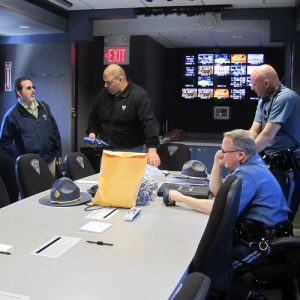 Although it is ubiquitously known that the extra precautions will be taken to secure our safety after the tragedies which occurred at last year's marathon, many wonder what improvements will be made and if the extra security is worth the inconveniences that are experienced by students, parents, and faculty alike.
On Tuesday this week a team of investigative reporters from the Hopkinton High School Newspaper, colloquially known as HHS Press, decided to ask both members of the State Police and Raytheon about their involvement in Hopkinton. Immediately upon arrival in the parking lot we were greeted with many vague answers. Charles N. Betack of Raytheon proclaimed that his business is "here to provide support for the Massachusetts State Police" and "are not doing any surveillance ourselves." He proceeded to direct us to members of the State Police who would perhaps give us more information on their purpose.
We were lead into the State Police trailer, loaded with cameras, equipment, notes scribbled on the cabinets, and other gadgets being set up in preparation for the marathon. As we were escorted into the trailer, a State Trooper told us, "this is the main command post for the State Police and we are simply setting up communications so we can communicate with each other: It's just a basis for operations". Along with this information, we were also told that this Boston Marathon will be the most popular since the centennial in 1996 . Between 36,000 and 39,000 runners are signed up to run in this year's marathon. The large influx of runners is partly due to the fact that many of the runners who did not reach the finish line last year were offered free registration for this year's race.
We continued to inquire about their purpose and operations, which yielded mostly vague responses or the words "I am not allowed to disclose this information".  However unclear what exactly happens inside both trailers parked outside HHS, it is apparent that this year's Boston Marathon has had much different thought and preparation put into it, beginning as close as directly beyond the doors of Hopkinton High School.