By Monica Disch
HOPKINTON- With early action deadlines approaching, high school seniors nationwide are struggling with formatting and submitting their college applications via the Common Application, an online site used by more than 500 colleges and universities to receive all necessary materials from applicants. At Hopkinton High School, seniors must face these problems with the fears of not knowing how to fix them and potentially missing their deadlines.
The new version of the application has eft students, guidance counselors and admission counselors with an enormous amount of stress. Although every school in the nation has been forced to deal with difficulties signing into the Common Application, they have been faced with even more problems after logging in.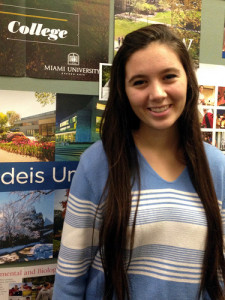 Kaylyn Venuto, a senior at Hopkinton High School, claims that she has not only had trouble signing in, but she has encountered problems with inserting her essay into the application as well.
"I've had particular encounters that were troubling with the essay and plugging it into the Common App. And specifically  one of those problems would be with pasting it, so I had to re-type the whole entire thing and if I pasted it, the word count would bump up to 1,000 words when I only had 600," said Venuto.
According to The Washington Post, pasting in the essay was not the only problem.
"For some time, essays that were entered into the Common App writing section showed no paragraph breaks because, according to a recent email from Common App spokesman Rob Killion, 'Paragraph breaks weren't originally supported in our writing text box (Line breaks yes, paragraph breaks no).' Students and counselors spent hours trying to find ways to get around it, but there was no way to do so until it was fixed," wrote Valerie Strauss, a writer for The Washington Post.
Stauss' report, however, also claimed that the board has been able to fix some of these problems. The Common Application Board has fixed a problem with a lack of "green checks," which indicate the completion of a given field; deleted answer fields in the activities section; adding more schools to receive the application; assigning recommenders; and problems with clicking the continue button.
Unfortunately however, according to the Common Application Website, applicants are still facing problems with printing the application, bolding and italicizing segments of the essay portion of the application, resetting the account password, and submitting the final copy of the application.
"There have been a lot of issues that have come up that they weren't aware of or that they thought wouldn't be issues. One is that kids are submitting things and not getting confirmation or the college isn't seeing it as submitted, which obviously causes anxiety and stress for students, understandably," said Deidre King, a guidance counselor at Hopkinton High School.
As more problems continue to progress, seniors are becoming more nervous and stressed. With all of the other activities seniors are involved in, the Common Application is creating an even larger workload.
"A lot of students are really feeling like they're in limbo and I can understand their frustration and their nerves regarding it," explained King.
"I'm sure most are very stressed out about this. I think most [colleges and universities] are conforming to the common app, but I think that the Common App should be fixed before all colleges completely conform to [it], " said Venuto.
At Hopkinton High School, about 90 percent of seniors have planned to apply to schools early action, and because such a large percentage of the senior class is applying this fall, the majority of the grade is affected.
"I haven't really had any students actually be unable to submit something. There have been lag times and delays but they haven't had anyone not be able to submit, so that's been a positive thing, it's just been sort of the stress surrounding it," reassured King.