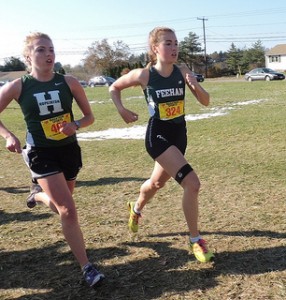 By Samantha Lee
The Hopkinton girls cross country team took second place in the MIAA Eastern State Division IV Championship meet on Saturday, November 10th at the Wrentham Massachussets Development Center. The meet hosted Division IV, V, and VI teams in six different 5k races throughout the morning.
The girls had high expectations for the race, as their performance would determine if the team would continue to the AllState meet in Northfield next Saturday.
"Going in, we were seeded third but we had a shot at second if everything went well," said Brian Hall, Hopkinton girls cross country coach.
Sophomore Shelby Aadren finished second in the race of 156 runners with a time of 18:37. Junior Melissa Lodge finished fourth with a time of 19:10. The rest of the team finished within the top 60 runners, with times of 20:22 (Marykate Cavanaugh), 20:49 (MP Monks), 22:05 (Maybritt Schillinger), 22:07 (Paige Lesslauer), and 22:13 (Emily Katz). Their performance earned the team their AllState qualification.
"This is only the second time ever that we have had a second place team at division states, and I'm very happy with that," said Hall.
"I was expecting to place fifth and got fourth instead. It felt good to place second as a team," said Melissa Lodge.
Along with standout lead runners, the team also has great depth and functions well as a whole.
"When you combine the skill with the depth, it's a recipie for success," reported www.ma.milesplit.com on the HHS girls cross country team.
The last time the Hopkinton girls cross country team qualified for AllSates was 2006. Since then, only individual runners have attended. The team is excited for next weekend, but anxious to fill the shoes of top runners like Nicole Driscoll, Erica Normandeau, and Lauren Lodge from the 2006 team.
"I'm really excited because last year I went to AllStates alone and this year we can go as a team and dominate the course together," said Shelby Aarden, who will be attending states for the second time this year.
Hopkinton girls cross country has one more week of practice before the AllState meet on Saturday, November 17th in Northfield.