Club Profile: Robotics Returns After Last Year's World Championship Debut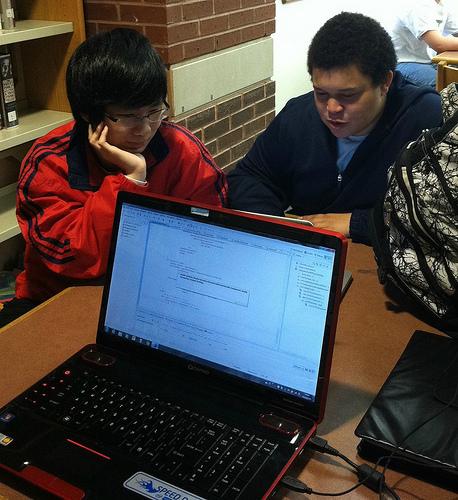 (Editor's Note: This article is part of a weekly series of HHS club profiles.)
By Emma Johnson
The HHS Robotics Club spends every Tuesday and Wednesday afternoon in C206 preparing for several upcoming competitions, which will get them closer and closer to their ultimate goal of winning the World Champion title.
The club is led by HHS Photography and Journalism teacher Sterling Worrell.  This year's group consists of about 15 active members, and spends the majority of their time "putting the robot together, programming the robot, and reaching out to sponsors for the club," said senior co-president Nick VanBeek.
The group traveled to St. Louis, Missouri last year for the First Robotics FTC Championship, and placed sixth overall in their division of 64 teams, just missing the top four margin of teams in each division that continued on to the finals.
Ian Randall, also a senior and co-president, said that the club's combination of excellent designs and active strategists and drivers gives them a good chance to win the title.  "This year our team is more motivated than ever and is months ahead of schedule," he stated.
The club is always encouraging new members to help them achieve their championship goal. Â People should join Robotics Club "so they can learning something new and work with a group of people," stated VanBeek.
Their next competition, the North Andover MA Qualifying Meet, will take place on January 14 at North Andover High School.