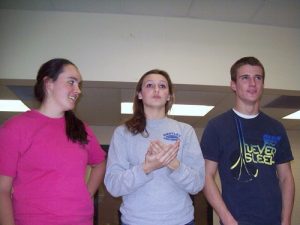 By Shaina Belsky
The Hopkinton High School Leo Club members will be working with the Lions Club of Hopkinton on December 3 to host a holiday party for local children. The party will take place at Hopkins from 1:00 to 3:00, and the children will be making arts and crafts for families in need for this upcoming holiday season.
Leo Club, the high school's community service club, has been planning this event for the past two months. The party is expected to bring in more than 300 students from kindergarten to 5th grade.
The main focus of the party is "to get as many gifts as we can to distribute through the churches and the fire department for needy families," stated Hopkinton Lions Leo Advisor Rita Pierce.
"At the event there will be caroling, craft tables, pictures with Santa, face painting, and lots of food," said Pierce. "There will also be a 'mitten tree' where we will accept donations of new mittens and gloves to be hung on the tree and later distributed to families," she added.
Leo Club President Hannah Krueger stated that some of the crafts will be donated to charity, which "applies to our main goal, which is to do community service throughout Hopkinton. By throwing this event, we are raising awareness and promoting our club to hopefully do more in the future for the community," she explained.
The two clubs are asking people to bring an unwrapped gift of over $10 to the event. "The [gifts] are for those kids who don't have any Christmas presents this year. It is really important that we help those less fortunate during the holidays," said senior Leo Officer Joey McNulty.
"This is the biggest event of the year and hopefully it will bring in the number of volunteers we need," said Krueger. "We need about fifty volunteers, but we just had the Father-daughter Pumpkin Prom which seemed to be a big hit with volunteers and attendance."
She also added, "We are always open for more volunteers and as much help as we can get. This event should be really fun."