Students Hit the Stage at BeFree Fall Jam
By Shaina Belsky
On Saturday, October 15th, BeFree hosted the Fall Jam, a performance based event that encourages teenagers to have fun and be social without the use of drugs or alcohol. Students enjoyed free snacks and warm beverages while listening to their peers sing on stage. The event was held outdoors at the Laborer's Training Camp in Hopkinton.
Hopkinton High School's BeFree club had been planning the Fall Jam since their first meeting in September. Their goal was to "provide an alternative social event for the teenagers in Hopkinton," explained Sue Hadley, co-coordinator of BeFree.
The chilly night started out with student performers. Seniors Danny Bressler, singer and ukulele player, and Jesse Shea, drummer, played an original song and several covers.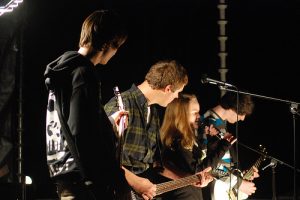 "I was playing a Cajon, an African drum that I sit on to create funky rhythms and awesome beats," Jesse explained, and added, "My nerves were not a factor in the performance and I was pretty excited going into it. I think the Fall Jam is great and is a place where we can have a stellar time going out and enjoying the music…I'm looking forward to experiencing it again."
As groups of students sat in the grass and on picnic tables, performers such as HHS students Abbey Perrault, Lara Murray, Stephen Grosso, Ben Dibona, Lucas Carbonneau, Brad Cohen, Colin Shea, Olivia Spector, and Shay Feather hit the stage. The night ended with strong performances by junior Sasha Yatchenko and the band 21A.
"We want kids to have the ability to do other activities that they can get involved in without using drugs and alcohol," said Samantha Mastrangelo, a student co-chair of BeFree.
Sue Hadley, Michelle Carbonneau, and three student co-chairs organized the Jam, and worked closely with Laborer's to produce the show.
"We usually have [Fall Jam] at the YMCA, but they were not available. We had a few other options but [Laborer's Training Camp] was the best choice. They were very helpful; they built us a stage and offered a lot of accommodations including bathrooms," said Maddie Bertschmann, another student co-chair.
Laborer's donated their facilities and provided two employees who assisted the parent chaperones, who made supervised, directed traffic, and cleaned up litter throughout the event.
All profits from the Fall Jam will be used to fund future BeFree events.