Impressive Artwork Draws Crowd at the Annual Honors Art Exhibition
Photos and Article by Catherine Leonard
It was a packed house at the Opening Reception of the Annual Honors Art Exhibition at the Cultural Arts Alliance on Thursday, March 24, 2011.  Parents and friends came out to meet and chat with seven of Hopkinton High School's most talented art students: seniors Chelsea Adams, Kyle Bogasky, Jennifer Curley, Meredith Clark, Amanda Hassan, Emily Mutschler, and Caroline Olney.   The event was held like a real gallery opening, with the best work of the students being displayed throughout multiple rooms of the building, while guests enjoyed the artwork and refreshments.
Saturday, March 26th, and Sunday, March 27th, the Cultural Arts Alliance will be set up with the artwork, and the general public is encouraged to stop by and check out the work of a few of the community's best artists.  The weekend show is an open house; people can come and go as they please.
Tracie Dunn, the AP Studio Art teacher at the high school, is excited for the event because it will display the artwork in a public setting as opposed to the restricted school setting.  She said, "This way it is more of an invitation to the whole community."
The walls of the Cultural Arts Alliance were covered in everything from miniature watercolors of seascapes to gigantic geometric paintings that stood as tall as the artist themselves.  There were also a lot of stands and tables set up that hosted a multitude of ceramic pieces like teapots and plates.  Dunn said, "The shows contents differ from year to year, but this year we have all 2d and ceramic pieces."
Many of the artists have recently participated in The Scholastic Art Awards, which is "a nonprofit organization that identifies teenagers with exceptional artistic and literary talent and brings their remarkable work to a national audience.  Panelists look for works that best exemplify originality, technical skill and the emergence of a personal voice or vision. (http://www.artandwriting.org/Alliance/About )"  Meredith Clark, Chelsea Adams, Amanda Hassan, Emily Mutschler, and Caroline Olney won Gold Keys, the highest honor.  Kyle Bogasky and Emily Mutschler won silver keys, and Honorable Mentions went to Jennifer Curley and Amanda Hassan.
Meredith Clark, who was one of three students selected to submit an eight piece portfolio to the Scholastic Art Awards and winner of a Gold Key, said of her AP Studio Art course, "One thing I am learning through the course is how to appreciate my own artwork.  I am not used to accepting compliments on my work.  Usually the first things I see when I look at my artwork are the mistakes, so it's been a good experience for me."
These students are all taking rigorous art classes that demand a lot of their time and effort.  They all agree that the course has pushed them to do things they did not think possible with their artwork before.  Caroline Olney, the other student who won a Gold Key for her Portfolio, said, "I like the paintings I did this year, even though they're different from what I am used to doing."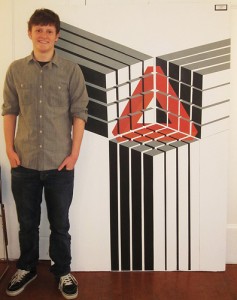 The students were proud of their displayed work, and Amanda Hassan said, "It's nice to see, not so much my own artwork, but everyone else's.  We have all been together in this class for the entire year and I keep trying to explain to my family what everyone has been doing, so it's nice for them to see my friends work as well as my own."
The Hopkinton Cultural Arts Alliance is encouraging all to stop by at some point this weekend to see the art and show support for the art program and its hardworking students.